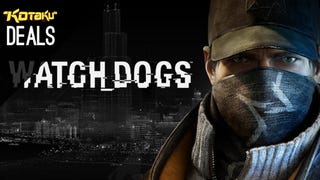 Watch Dogs is finally coming out on the 27th. Don't miss your chance to save by pre-ordering, not to mention the bonuses.
Watch Dogs pre-order with $15 Xbox Gift Card | One/360
Watch Dogs pre-order with $12 credit | PC
Watch Dogs Deluxe pre-order with $14 credit | PC
---
The Sony Gold Wireless Headset is one of your six contenders for the best, and probably the best option for dedicated Sony console gamers. [Sony Gold Headset, $85]
---
Pandemic, if you're unfamiliar, is an incredibly fun board game that avoids most of the typical pitfalls by making the experience cooperative rather than competitive, plus it has an intelligent premise. [Pandemic, $29]
---
The Dark Knight Trilogy Ultimate Collector's Edition is packed with special features, rare footage, and beautiful prints, not to mention reproductions of Batman's vehicles from the films. [Dark Knight Trilogy CE, $50]
---
This highly-rated PVR accepts HDMI input from any source (such as game consoles), and saves footage straight to a flash drive for editing and archiving. [Hauppauge HD PVR Rocket, $150]
---
Amazon runs specials on the Kindle Fire fairly often, but they usually don't include the LTE models. Today only, you can grab a refurbished Kindle Fire HD 8.9" tablet with 4G connectivity for $80 off. [Kindle Fire HD LTE, $220]
---
Nobody likes being trapped in a two year phone contract, but paying outright for top-tier phones is a tough pill to swallow. Today though, you can get a nice discount on an unlocked Galaxy S5 from Amazon. [Samsung Galaxy S5 Unlocked, $615]
---
Cast iron offers easily the best bang for your buck in kitchenware, and this starter kit is marked down to only $65. If you take good care of them, Lodge pans should last forever, and generally improve with age and occasional seasoning. [Lodge Cast Iron Set, $65]
---
The Panasonic Arc4 is a seriously good electric shaver, and right now you can save $40 by clipping the digital coupon. [Panasonic Arc4 Shaver, $91 After $40 Coupon]
---
$35 for a motion-sensing auto-opening trash can is pretty much unheard of. You might not be familiar with the brand, but user reviews are solid. [Nine Stars Sens0r-Activated Trash Can, $35]
---
Games
PC
PS4
Xbox One
PS3
Xbox 360
Wii U
Vita
Board Games
Apps
iOS
Logitech Powershell Controller for iPhone 5/5S ($50) | Amazon
Android
Movies and Television
Television
Books
Home Theater
Peripherals
PC Parts
Home
Inventory
---
See all the upcoming releases here.
May 20
Wolfenstein | PS4/PS3/One/360/PC | Pre-order for Doom Beta Access
Drakengard 3 | PS3
Hakuoki: Stories of the Shinsengumi Limited Edition | PS3
Mugen Souls Z | PS4
Transistor | PS4/PC
R-Type Dimensions | PS3
Sparkle 2 | PS4/Vita
Z-Run | Vita
Serial Experiments Lain: Complete Series | Blu-ray
May 23
Tropico 5 | PC
Killer is Dead: Nightmare Edition | PC
May 27
Watch Dogs | PS4/PS3/One/360/PC
Sly Cooper Collection | Vita
Mind Zero | Vita
Ace Combat: Infinity | PS3
Monster Monpiece | Vita
May 30
Mario Kart 8 | Wii U
---
June
---
June 3
Murdered: Soul Suspect | PS4/PS3/One/360/PC
Wildstar | PC
Hyperdimension Neptunia PP | Vita
Attack on Titan, Part 1, Limited Edition | Blu-ray | Also in standard edition
June 6
Tomodachi Life | 3DS
June 9
June 10
Enemy Front | PS3/360/PC
True Detective | Blu-ray
June 17
EA Sports UFC | PS4/One
The LEGO Movie: Everything Is Awesome Edition | Blu-ray | Also available in standard edition
House of Cards Season Two | Blu-ray
June 20
Divinity: Original Sin | PC/Mac
June 24
Transformers: Rise of the Dark Spark | PS4/PS3/One/360/Wii U/3DS/PC
Plants vs. Zombies: Garden Warfare | PC
BlazBlue: Chrono Phantasma | Vita
Star Trek: The Next Generation Season Six | Blu-ray
Orphan Black Season Two | Blu-ray
---
July
---
July 29
Hyperdimension Neptunia Re;Birth1 | Vita
Twin Peaks: The Entire Mystery | Blu-ray
Herzog: The Collection limited edition | Blu-ray
---
August
---
August 5
Akiba's Trip: Undead and Undressed | PS3/Vita
August 12
Disgaea 4: A Promise Revisited | Vita
August 19
Diablo III: Ultimate Evil Edition | PS4/One/PS3/360
August 22
Tales of Xillia 2 | PS3
August 26
The Evil Within | PS4/PS3/One/360/PC
The Walking Dead Season 4 Limited Edition | Blu-ray | Also available in standard edition
---
September
---
September 2
Danganronpa 2: Goodbye Despair | Vita
September 9
Destiny | PS4/PS3/One/360 | Pre-order for Beta access