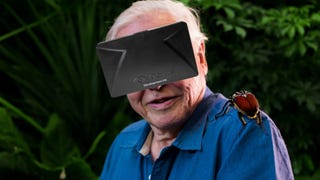 David Attenborough, the journalist behind many beloved nature documentaries including the Planet Earth series, is going fully next-gen for one of his upcoming projects. It's a movie called Conquest of the Skies, and unlike any of Attenborough's previous work, it's being made for the Oculus Rift virtual reality headset, director John Morris told the website realscreen.
Morris said that the film crew is already working with several Oculus Rift development kits. The team finds the new technology exciting because there are "no rules yet as to what a non-fiction experience on a totally new creative platform should be." That's exciting creatively, but it also means that it's "a new platform you can monetize" in any number of unprecedented ways as well. I'm guessing that last part had something to do with social media giant Facebook plunking down a cool $2 billion last month for the trendy virtual reality startup.
Attenborough, for those of you who aren't Planet Earth addicts, is widely regarded as a phenomenally talented nature documentarian—not to mention one of the greatest living Britons. To help explain why he's so universally loved, here is a video of him introducing the world to Pikas:
I don't want to editorialize too much about this news since I know very little (read: nothing) about Conquest of the Skies. But let me give a quick anecdote to help explain why I find this news so exciting.
Last month, I got a chance to dive head first into a number of different virtual reality prototypes that were on display at the Game Developers Conference. These included the latest version of the Oculus Rift and Project Morpheus, Sony's newly announced VR headset by which we were pleasantly surprised.
One of the most stunning experiences I've had so far in virtual reality happened during the Morpheus demo when I suddenly found myself immersed in a shark tank. The scene felt like something ripped out of a Jaws sequel, but I remember thinking to myself: "Wow, what would it be like if someone just copy-pasted Planet Earth into this thing?"
Virtual reality headsets like the Rift and Morpheus, in my opinion, are far more technologically impressive when it comes to their displays than anything that has to do with their control setups or any of the other things that could someday make them compelling platforms for video games. So until someone figures out how to make a virtual reality treadmill that's slightly less "exhausting" to use than Virtuix's Omni device, I'd much rather sit back and listen to the dulcet tones of David Attenborough as he explains what some bug-eyed creature is.
Again, I can't say for sure that that's what Conquest of the Skies is going to be. But given Attenborough's impressive resume, I see no reason not to be excited.
To contact the author of this post, write to yannick.lejacq@kotaku.com or find him on Twitter at @YannickLeJacq.