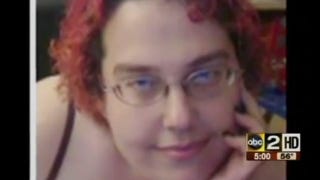 There's this German browser game called WAR2 Glory. You've probably never heard of it. "Alleged Cougar" Lisa Carroll, 39 (pictured), and her 16 year-old "fiancee" have, though, because it's where they met, and it's how they started knocking boots.
After growing closer through the game, the pair actually got engaged - via Skype - and then started having sex when Carroll drove 800 miles from Maryland to meet the boy in a Florida hotel room.
Shortly after they were done and his "fiancee" had gone home, the kid realised how weird everything was and told his parents, who then called the cops. The cops then turned up at Carroll's apartment back in Maryland to arrest her, since in Florida it's illegal for anyone over the age of 23 to have sex with a 16 year-old.
That's not the crowning moment of this story, though. No, that comes during the arrest itself, when the cops cuff her, tell her what she's charged with and...her husband is in the room. The lady was already married.
You can't make this up, people. Now please watch the video below. It's presented by a man named Roosevelt Leftwich.
---
Road trips for sex with minor land alleged cougar behind bars [ABC2, via Game Politics]