Today we're doing something weird. We've asked a team of fashion experts to judge the outfits of video game characters. Think of this as Video Gaming's Next Top Model.
---
This post originally appeared on Kotaku Australia and on Kotaku on 2/3/16.
---
Their opinions on Quiet from Metal Gear Solid V will (probably not) shock you.

Joining us on today's judging panel today are…
L-R: Lisa Patulny, Editor of Byrdie / Carina Ross, Health and Fitness Editor, POPSUGAR / Alexandra Whiting, Lifestyle Editor, POPSUGAR / Justine Dunton-Rose, Beauty Editor, POPSUGAR / Genevieve Rota, Entertainment Editor, POPSUGAR
Okay, now that we're done with the introductions, on with the show.
---
Lightning from Final Fantasy XIII
G/O Media may get a commission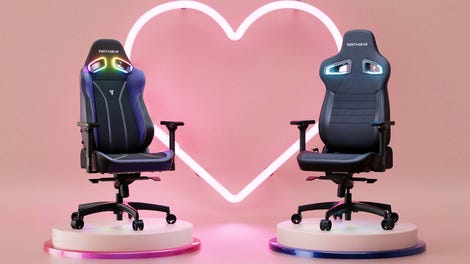 Up to $150 off
Vertagear Gaming Chairs
Lisa: Feeling the tan and cream vest but not the thigh bag. Is that a thing? Do people make leg bags? I really don't want one.
Carina: Her eyes are telling me she looks uncomfortable. Does she eat much? If so, a high waisted belt is torture. Poor, sad Lightning. 6/10.
Alexandra: As a dedicated FF player and, you know, woman, I love Lightning. She's a total badass with a military background to boot, and her outfit reflects this. Lightning looks like they put her in a soldier's uniform and she ripped off all the bits she didn't need, strapped a bag to her thigh (don't knock 'til you try it) and added a cape for the hell of it.
Justine: She looks like Lara from Tomb Raider's cooler cousin. Digging her pastel hair but feel like the leg- bag would be way cuter as a rucksack. 7/10
Genevieve: I don't want to offend this girl 'cause she looks like a bad-ass. But there's just a lot going on. The olive green, the tan, the burgundy, the black, cream, navy, yellow . . . I'm exhausted. Coco Chanel's sage advice – "before you leave the house, look in the mirror and take one thing off" – really would have come in handy here. She's making a case for belts serving as bras, though.
---
Squid Girl from Splatoon
Lisa: Squid Girl got the memo re: athleisure wear being a trend. She looks like she just left spin.
Carina: How awesome are her practical shoes! Squid girl seems sensible. 9/10 for practicality.
Alexandra: I like that she's matched her gun with her hair. She's owning those early '00s jumbo trainers too.
Justine: She looks like that mean girl from primary school. The one who would kick you under the table and pretend it wasn't her. One bonus point for her cool(ish) headphones, but minus another for clashing her fluro pink shoes with her hair and water pistol. Bad form. 4/10
Genevieve: I'm looking and all I can see is that she has two aggressive baby carrots for eyebrows. And such enormous feet! She's tapped into the activewear trend though, so I can appreciate that she's got her finger on the pulse. Squid Girl from Bondi, maybe.
---
Chloe from Life Is Strange
Lisa: I don't know anything about Chloe but I assume she punches people who wear the band shirts of bands they don't really listen to.
Carina: I'm not sure what her character does in the game . . . does she fight? Or maybe mope around? Either way her outfit confuses me. A beanie AND a singlet, tells me she can't decide if she's hot or cold. 4/10.
Alexandra: Chloe is obviously very cool. We know this because she has a skull in her tattoo, on her shirt and then (for extra clarification) the word 'skull' on her top.
Justine: This girl looks like Ruby Rose back in her DJing days. Enjoying her rock vibe and cool beanie. 8/10
Genevieve: Her clothes and tats say "I don't give a sh*t about you" and her eyes say, "Take care of me." I like this juxtaposition. I also enjoy her blue nails, peek-a-boo bra and the necklace – she's put a bit of effort in and I'm glad about it. I feel like she might have issues though, I dunno. *Googles*. Score: 7/10, 'cause she does what she wants.
---
Adam from Deus Ex
Lisa: He looks like a less hot version of Neo from The Matrix. Soz Adam.
Carina: Lose the long leather jacket mate. 3/10
Alexandra: Adam has a look that says both, "I'm from the future" and "I came this close to catching Jack the Ripper in 1888." You know, like a vampire. I bet he plays the piano and speaks Latin.
Justine: At first I want sure if he'd gone OTT on the guyliner, but then I realised they were stuck-on shades. So that was that. 3/10
Genevieve: This is what would happen if Neo and Wolverine had a lovechild. I don't hate it, but it's a little bit smarmy European for my liking.
---
Aiden from Watch Dogs
Lisa: He looks like any dude, anywhere, in winter. Except I know he's not Australian because he's not wearing thongs.
Carina: Underneath that big ol' coat Aiden looks like the kinda guy you'd want to take home to mum. Ya know, jeans, sensible jumper, dreamy eyes… 8/10
Alexandra: This is from G-Star's AW16 campaign, no?
Justine: This guy looks not unlike someone who is living in NYC right now. I'm actually quite enjoying his street style. Lose the gun and I would probably go on a date with this Aiden from Watch Dogs dude. 9/10
Genevieve: I'm willing to look past the bootleg jeans and fingerless gloves for what looks to be a very attractive face under that scarf. Nice broad shoulders, a smouldering eye, 5 o'clock shadow . . . From a style perspective he's a no but from a sex appeal angle he's a YES. I hope he's not a baddie.
---
Tingle from The Legend of Zelda
Lisa: Tingle looks like a good time. He's clearly got confidence which could go some way towards making up for the fact that he's wearing a lime green unitard with red undies on top. Wait. I just Googled and Tingle is a 35-year old man obsessed with forest fairies. Hard pass, Tingle.
Carina: How adorably annoying! Nothing frustrates me more than the colour neon green. Also why is Tingle wearing his red (also an annoying colour) jocks on top of his offensive onsie? 1/10 for the booties.
Alexandra: We could say a lot of things about Tingle's look, but the important thing is he's owning it. *cough*
Justine: What even is this? It looks like something from my childhood nightmares… With a terrible sinus infection. 1/10
Genevieve: Is this guy an alcoholic? His nose screams yes. No matter how cute his name is, I can't be down with a fluoro green onesie offset by red Speedos.
---
Samus from Metroid
Lisa: Her suit looks like those aerodynamic unitards swimmers wear at the Olympics. Great accessories, although can someone please explain why game designers think heels are appropriate footwear for kicking butt? (Unless her super power is sitting in an Uber all day.)
Alexandra: Is she actually wearing clothes or is she just blue from the neck down?
Justine: Seriously, if I was a gaming character I'd probably want to look something like this. Minus those hideous heels. I mean, c'mon gurl, you're better than that! 7/10
Genevieve: The shoes are a little heavy for the sleek outfit but overall I think she's done well. She should take notes from Khloe Kardashian, who recently wore a jumpsuit just like this but paired it with some pointed pumps – much more complementary. Also, I'd kill for a ponytail that lush.
---
Ciri from The Witcher 3
Lisa: Ciri looks like one of those impossibly cool models that are so tall and thin they can pull off batshit crazy outfits and questionable hair. She looks cool but if I wore this my parents would call the police.
Alexandra: A sensible sized heel, a few belts, arm tassels – this outfit will take Ciri from the office to the bar nicely.
Justine: Ciri has some pretty bitchin' leather pants and I kinda like the neckline on her top/jacket thing. The shoes are a little '00s, but I reckon Puss in Boots would be keen. 6/10
Genevieve: Now this I can get on board with. The leather pants (or are they jeans?), boots with a western influence (totally on trend), a prairie style top, kick-ass accessories… This girl's got it going on. Sassy and sexy and as if she cares what we think anyway.
---
Quiet from Metal Gear Solid V
Lisa: Sorry, is this an "outfit"? I don't think she's finished getting dressed. I hope there's a mumsy character who follows her around the game with a jumper saying, "Don't forget your cardigan!" Is there? I would play that game.
Carina: WHAT the actual hell!? Anyone who has boobs will tell you there's not much you can do in a bikini five sizes too small, apart from stand very still and pray you don't have a nip slip. How does Quiet even live? Don't even get me started on the rest of her strange get-up. 1/10 soz, Quiet!
Alexandra: If she wasn't rocking weapons I'd think Quiet's been made to wear this against her will. Because that is the only way someone would ever wear this.
Justine: I'm lost for words. No, just no. Everything about this is no. 0/10
Genevieve: Yes, she's covering her private parts with minuscule scraps of material. Yes, her tights are upsettingly holey. Yes, this outfit is completely inappropriate for everything, ever. But she's got cool combat boots on, and a bangin' body – why shouldn't she show it off? You know what's really letting her down here? Her greasy hair. Girl, take a shower.
---
This post originally appeared on Kotaku Australia, where Mark Serrels is the Editor. You can follow him on Twitter if you're into that sort of thing.