"I wouldn't change anything," Uncharted 4 creative director Neil Druckmann said during a panel today at the PlayStation Experience event in San Francisco, when asked about having a white actress play a black character in the upcoming PS4 game. The casting had drawn some controversy in the last two days, since the character's debut, but Druckmann said he saw the casting as a sign of gaming's distinct strengths.
Elden Ring's Top Five Spells, According To FromSoftWare's Stats
"That, to me, is what's so awesome about our medium," he continued, describing the ability to have actors play characters that don't look like them. "Your awkward appearance doesn't matter at all. If it did, Troy [Baker] couldn't play Joel in The Last of Us. Ashley Johnson couldn't play Ellie. In a movie version they couldn't play those roles, but they played them to perfection."
The character in question is Nadine Ross. She kicked Nathan Drake's ass in a recent trailer. She's played by a white voice actress, Laura Bailey.
This sparked controversy on sites like NeoGAF, which Druckmann cited today. Some felt that this exacerbated a problem of under-representation in both the gaming industry and acting. Others said that Naughty Dog had a right to their own vision, and if they feel like Bailey is the right person for the job, more power to them.
G/O Media may get a commission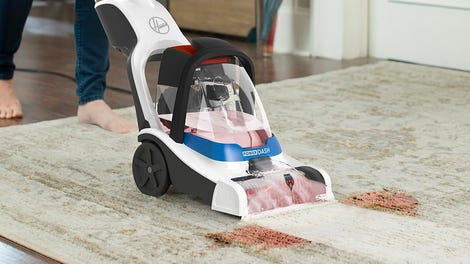 26% Off
Hoover PowerDash Pet Compact Carpet Cleaner
During a PSX panel today, Uncharted 4 creative director Neil Druckmann explained the decisions that brought the game to this point and noted that Uncharted 4 also has a black actor playing a white character. His lengthy response is below. Notably, he also said that Uncharted 4 will have a white character who is voiced by a black actor:
Druckmann said that Nadine's look had not been finalized while his team was looking for voice actors. "We just had kind of who she is, the army she runs, and that she's from South Africa." So Naughty Dog sent out casting calls to a bunch of different people from all over the place—some American, some South African, and so on. According to Druckmann, though, Bailey "just killed it." So she was the obvious pick at that point.
Then they went back and really honed in on the character's design, and they found one they really liked—more or less the one seen in the recent trailer. "I was like, 'This is awesome,'" said Druckmann. "'How often do you see a character of color like this that's ripped? This also is Nadine.'"
At that point, Druckmann said, someone else on the team pointed out that they had a black character with a white voice actress. "You're inviting controversy," they said. Druckmann acknowledged that they might be right, but he decided to hold off on major changes until they were able to put everything together—see Nadine as voiced by Bailey in action.
When Druckmann saw the combination, he said it just felt right. He added that he stands by his decision. "I'm so proud of Laura's performance, and I hope none of this takes away from what she was able to accomplish."
Druckmann's explanation was met largely with applause from the PlayStation fans in attendance.
We'll have more on Uncharted 4 soon.
To contact the author of this post, write to nathan.grayson@kotaku.com or find him on Twitter @vahn16.