UFC 206 took place over the weekend, and despite losing multiple fights (including its original main event) to injuries, it ended up being one of the best fight cards of the year. It was uncomplicated, brutal fun—a breath of fresh air after months of beefs, organizational drama, and various other flavors of bullshit.

On paper, UFC 206 looked mostly skippable. It lost its big title fight and then, weirdly, got overshadowed by the way the UFC scrambled to replace said big title fight with an "interim" (read: made-up) title in the featherweight division, which Conor McGregor ruled until very recently. You can probably guess who stole the spotlight there. In the end, it was all for naught, because fake title challenger Anthony Pettis came in overweight, meaning that he was no longer eligible to fight for the belt. And so the car wreck screeched on.
All the while, the MMA world was abuzz with talk of the newly formed Mixed Martial Arts Athletes Association, a pseudo-union that went from zero-to-disorganized shitshow in the span of a few days. There's an almost reality-show-like appeal to the way things are falling apart. Let's call it The Ultimate Infighter. I'm rooting for some kind of fighters' union, but this probably ain't it.

On Saturday, fight night arrived. The main card was by no means weak, but with zero real title fights and a dearth of recognizable star power because of injuries to folks like former light heavyweight champion Rashad Evans (in addition to the aforementioned light heavyweight title tilt between Daniel Cormier and Anthony Johnson), it seemed like a better fit for free television than the dollar-gobbling abyss that is pay-per-view.
G/O Media may get a commission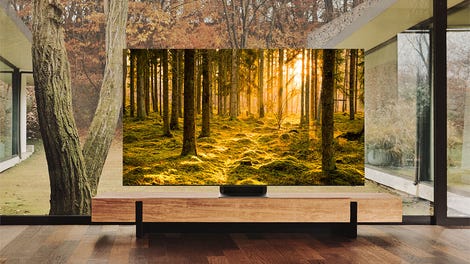 Up to 40% off
Samsung Smart TVs
Then the fights began, and all that nonsense faded into the background for a little while. Things started to feel special before the main card even began, when the continuously underestimated Lando Vannata landed a spinning hook kick so tasty that Italian chefs the world over made kissing motions and said things about spicy meatballs, though none were entirely sure why:
I imagine the UFC will replay that KO hundreds of times in the years to come, but for now, it's fucking magical.
Once the main card rolled around, things kicked into high gear. The first two fights were solid, and the final three were sublime. Of those last three, the best was easily Cub Swanson vs Doo Ho Choi. Swanson played the part of steely vet whose best days, many figured, were behind him, while Choi was the baby-faced upstart ablaze with momentum. Choi, known for a string of gorgeous first-round knockouts, started out smooth and confident, but Swanson turned things around by winging punches like a beastman from [insert fantasy universe here] and throwing in cartwheel kicks here and there because madness comes in all sorts of fun flavors.
Both had their moments in round one, but in the middle of round two, the tide turned. Swanson began detonating the sort of fistic bombs that would reduce a lesser man to rubble, but Choi just ate punch after punch. He ate them standing, he ate them on the ground, he ate them while people were watching, and even as they winced away in sympathetic pain. But he never stopped trying to knock Swanson's block off, a quality that somehow becomes extra impressive when it's paired with a cherubic angel face that'd get you carded at bars in heaven as well as on Earth.
When the scores were called, Swanson took the fight, but both Swanson and Choi managed their own tremendous symbolic victories. Swanson showed he wasn't done, and Choi—that beautiful, unblemished man-boy—showed he could hang tough in the deepest waters. It was an astounding display. It's my Fight Of The Year, for sure.
But the night wasn't over. Next up, perennial fan favorite Donald "Cowboy" Cerrone took on a man who looks and acts like he starts every day with a hearty bowl of rocks and bees, Matt Brown. The fight was a war from the word go. Cowboy, who's looked like a world-beater ever since moving from 155 lbs to 170, got rocked by Brown's deceptively accurate brand of brawling, and at the end of the first, it seemed like Brown was on the verge of victory. Cowboy, however, found a home for some wicked head kicks in round two, narrowly clinching it despite some shaky moments. You don't just put away Matt Brown, though. Dude's a slab of granite with chest hair glued on. If it's a pure test of wills you're after, his will prevail.
By the start of round three, Cowboy and Brown—two men who professed to dislike each other based less on a contrived beef and more on personalities that just couldn't see eye-to-eye on, you know, life and shit—were ready to shake hands and hug. Seconds later, though, they resumed their razor's-edge brawl, at which point Cowboy backed up Brown and uncorked a head kick from Southern Hell. That was it. Cowboy didn't even bother with follow-up punches. After two-and-a-half riveting rounds, Cowboy secured his status as an elite welterweight. It was a wild, strangely intimate moment, the sort that continually reinvigorates my love for MMA when the flames start flagging. It seemed like they could fight each other forever, but then it all ended in a heartbeat.
The final fight didn't have quite as much back-and-forth in-cage drama, but it was exciting while it lasted—not to mention supremely validating for a dude who deserves all the validation in the world. Max Holloway, riding one of the most impressive win streaks in all of MMA since a loss to Conor McGregor back in 2013, roundly bested former lightweight champion Anthony Pettis. Holloway's attrition-style boxing stifled Pettis' vaunted arsenal of flashy kicks, en route to a nasty finish. Pettis has never lost like that. We've never seem him crumble, even against some of the heaviest hitters at lightweight. After he slumped against the cage, I thought he was gonna start crying. I haven't seen a fighter look so broken in a long time.
Holloway is simply in another league. And while the belt he took home was bogus (not to mention ultimately more trouble to create than it was worth), it still looked damn good on him. The shadow of The Irish One somehow looms heavier than ever over the featherweight division, but I'm excited to see who takes home the "undisputed" belt when current champ/recent McGregor victim Jose Aldo and Holloway tango next year.
In hindsight, that's kinda UFC 206 in a nutshell: outside events cast a dark cloud over it, but when the cage door slammed shut, the fights spoke for themselves. It was a wild ride, one that's still got me grinning two days later. It was also a return to a simpler time. Fabricated rivalries were (almost) nowhere to be found, and some astoundingly skilled people went in there and fought their hearts out. I don't necessarily want every card to be like this, but I don't think I realized how much I missed the ones that are, either.