Ubisoft's just-announced The Crew is an ambitious, impressive-looking game. A Need for Speed-like street racing game with a ton of singleplayer and multiplayer options, set on a ridiculously massive map that spans from Los Angeles to New York City. But if you want to play it, you're going to need an internet connection.
Yesterday at a pre-E3 press event, I had a chance to watch a demonstration of the game—due out in 2014—and spend some time playing a PC build. I was impressed—the racing doesn't have that same thrilling sense of velocity that Criterion's games (most recently Need for Speed: Most Wanted) manage to capture, but I really do like the idea.
The game does this incredibly slick move where you zoom out from your car to a Google Maps-like overhead view, zooming out until you're eventually looking down at the entire nation, then zooming back in on where you want to drive. Anywhere in the United States.
When I first saw a player leaping around from Miami to Las Vegas to New York without a loading screen, my first thought was, "Welp, this is pretty much what I imagined when I pictured a 'Next-Gen Racing Game.'"
G/O Media may get a commission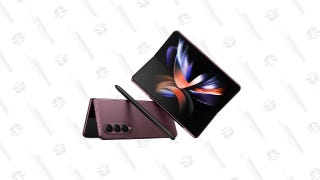 Save Up to $300
Galaxy Z Fold4
My second thought was, "This has got to be relying on cloud computing or something." And yet, when I asked one of the game's producers during my hands-on session, he assured me that the whole game played off the disk.
After my demo, I sat down for a quick chat with The Crew creative director Julian Gerighty. He told me, in no uncertain terms, that The Crew is always-online. Whether you play on console or on PC, you'll need an internet connection to play.
"Our approach to that is this is a living world," Gerighty said. "We don't really see the point of offline. Did you ever play World of Warcraft? So World of Warcraft, you don't play offline. It doesn't mean you can't play by yourself—when I played World of Warcraft, I played it for about twelve months, single-player only, without talking to anyone. That's our approach."
---
"We don't really see the point of offline. Did you ever play World of Warcraft? So World of Warcraft, you don't play offline."
---
I asked Gerighty what would happen if someone was playing the game and their internet went down. "They won't be able to save the game, unfortunately," he said. "All our saves are server-based, it's one of those things that this new generation… it's just like World of Warcraft. If the internet connection goes on World of Warcraft, that's it, your saved game goes. It's one of the unfortunate side-effects, but I think [we're] going to a world where the experiences demand that."
But do the experiences demand that? Have they so far? I mentioned how upset some people are getting about always-online games. "People got used to it on World of Warcraft, people got used to it on MMOs," Gerighty said. He emphasized that the single-player story can be played all by yourself… as long as you have an internet connection. "It just becomes that much more interesting if you're connected, and the world around you is living, with other drivers and potential encounters."
I asked if they're worried that The Crew might run into the same sorts of launch-day problems that SimCity ran into—players who bought the game unable to play due to server-side problems. "We're doing extensive testing," Gerighty said. "It scares the living bejesus out of us. When you work so hard on a game like SimCity, only for it not to work perfectly, according to plan, it's soul-crushing for the dev team. I really feel for those guys. So we're gonna do as much as possible to stop that from happening. We're gonna do beta testing, make sure that the entire system [works], but you never know." He laughed. "Don't give me nightmares now, we're just announcing it!"