Editor's note: The mysterious figure known as Superannuation in an expert at digging up what's hidden in plain view. All of what Superannuation finds is available to the public. These could very well be true gaming secrets. Read on...
In his CV, a business development person at Ubisoft's Swedish studio Massive mentions that he is "Working on the Business strategy of [a] tens of millions euros project based on a top grossing brand of Ubisoft. " He also talks about conceiving an "Acquisition, Retention and Monetization strategy" and the "prototyping of F2P games," suggesting that this is an online free-to-play title.
Word of Massive's MMO ambitions is not new, though there has been no indication previously that this is connected to an existing Ubisoft brand. Several days after Ubisoft officially acquired Massive in November 2008, Ubisoft CEO Yves Guillemot told investors that Massive would focus on the MMO space, beginning with smaller-scale MMO games popular in Asian markets and expanding to full-fledged "RPG and RTS also in the MMO space." At the time, many guessed it might be a Tom Clancy brand MMO, given Guillemot's comments from earlier that year stating that a massively multiplayer Clancy game was at the top of his company's agenda.
Massive has been hiring for their MMO project for quite some time. In late 2009, the studio put up a few programmer openings for its "MMORPG team." In 2011, Massive posted openings for MMO level designers to build "a compelling long-term player experience from the ground up." Last May, a Danish gaming site noticed a job listing on Massive's site for a PVP designer to work on "a highly ambitious AAA Next-gen Online RPG project." A version of the posting on an external jobs portal described the game as a "AAA MMO title," and asked for candidates with "Experience playing PvP at a high level in a major MMO" and "developing third-person action games." Massive already worked on Assassin's Creed: Revelations, leading some to speculate that Massive was developing an online title related to the top-selling historical sandbox franchise, which has supplanted the Clancy-verse as Ubisoft's premier core brand.
G/O Media may get a commission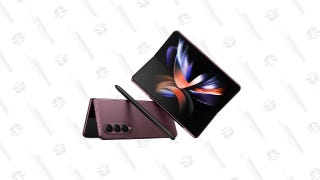 Save Up to $300
Galaxy Z Fold4
Since being acquired by Ubisoft, Massive—previously known for RTS games such as Ground Control and World in Conflict—has contributed to several of Ubisoft's major titles. Massive turned a small abstract puzzle game the studio was working on into the puzzle-based Desmond Journey sequences in Assassin's Creed Revelations, after the Assassin's Creed team took notice of Massive's puzzle project. (I wonder if any of the other disparate gameplay elements in the series came about this way.) The studio also created Far Cry 3's multiplayer and co-op modes, and houses the team behind the Uplay PC client.
Additionally, several weeks ago Massive posted a job opening for a programmer to make mobile iOS/Android games in relation to a project that "is very ambitious and is breaking new ground for the industry of gaming and entertainment and is reaching out to both existing and completely new type[s] of customers." Perhaps this Massive MMO has a mobile component?
---
Electronic Arts' Dead Space almost went in a somewhat unusual direction. On his resume, an engineer at EA's Visceral Games studio says he spent the latter half of 2011 working on a prototype for a social-oriented, "browser based Dead Space prototype" made with Flash. Intriguingly, the engineer mentions that they apparently folded work on the Dead Space project into some sort of Battlefield project. He then worked on a Unity-based prototype for a multiplayer 3D Battlefield game.
---
Mac gamers may be able to enjoy some more EA franchises in the future. Recently, DICE put an opening up on its site for a Mac OS X engineer who "will be part of a team focusing on bringing Frostbite to Mac and work closely with game team customers and the Frostbite team to deliver an engine as great on OS X as it is on Windows and traditional console platforms." Frostbite, of course, is the engine that powers DICE's Battlefield franchise, as well as an assortment of titles like the next entries in the Mass Effect, Dragon Age, Command & Conquer, and Need for Speed franchises.
DICE porting its Frostbite engine does not necessarily mean that the infamously-demanding Battlefield series will be coming to Mac. The engine is powering 15 games in development at EA, including less technically demanding titles like forthcoming free-to-play Command and Conquer, and EA recently suggested that they hope to use Frostbite as the engine for most of their non-sports titles. With DICE also bringing Frostbite to mobile devices, incorporating Mac seems like a logical step for games that could very well have cross-platform components.
---
According to several resumes, Patrice Desilets' recently "suspended" project 1666 was a next-generation title using Unreal Engine 4.
An engineer says in his resume that the prototype for 1666 was done in Volition's Saints Row engine and moved to Unreal Engine 4 for the actual game development.
Little is known about what type of game 1666 was, but the title and job postings mentioning "open-world" might lead one to guess a historical sandbox game. On his LinkedIn profile, a level designer says aspects of 1666 he worked on include "Chaos management, NPC interactions, Combat, Mission Structure, Detection & Reactions," which sound like the sort of things that might appear in a historical sandbox title. THQ Montreal was also hiring for a designer to work on the game's melee combat and multiplayer.
Also of note: Underdog, a second THQ Montreal game revealed by THQ bankruptcy court documents, was a Unity-based "AAA tablet game."
superannuation is a self-described "internet extraordinaire" residing somewhere in the Pacific Time Zone. He tweets, and can be reached at heyheymayday AT gmail DOT com.