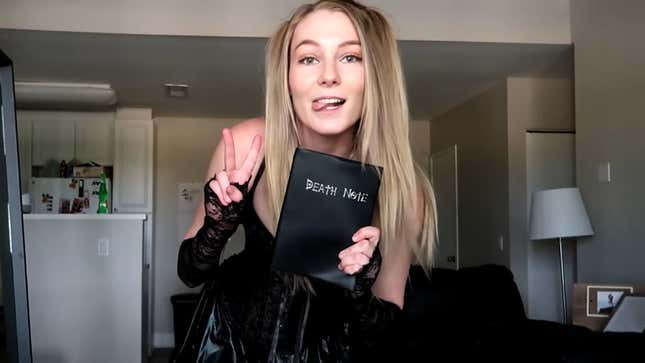 A popular Twitch streamer and YouTuber has opened up about her decision to refrain from publishing lewd content on platforms like Fansly and OnlyFans, citing mental health and relationship stability as the reasons.
Lego Star Wars: The Skywalker Saga's Air Combos Make Me Feel Skilled AF
STPeach is a content creator with millions of followers on both Instagram and Twitch. She started broadcasting on Amazon's livestreaming platform back in 2016, playing games like Counter-Strike: Global Offensive and League of Legends to grow her immense following. She also posts on Youtube, uploading more vloggy videos around fitness and travel. This is the bread and butter of her online personality: gaming, exercising, and globetrotting. Mixed in there, though, was some lascivious stuff, such as revealing outfits on stream or overtly sexual content on her very successful Fansly account (which has over 346K followers). This horny content has gotten her in trouble with Twitch before, as she incurred two temporary bans in 2022 for some allegedly skimpy cosplay.
Now, STPeach is refusing to do lewd content going forward. While Dexerto reports that she's stopped publishing such content this year, the broadcaster took to X/Twitter on August 4 to discuss the issue in the open, especially since chatters in her livestreams kept asking her for some kind of explanation.
"Decided to address this more publicly since people keep asking but I have quit doing the more lewd platforms," STPeach said. "Deciding to step away was a hard decision but my mental health, happiness, relationships with family, friends and god, have felt so much better after quitting. Thankful for the opportunities that [it] has given but I'm happy with my decision, hopefully you all understand." She concluded the tweet with a red heart emoji.
She addressed the choice more in an August 7 livestream. When a chatter asked why she quit Fansly, STPeach said she didn't want to do it anymore.
"It got to a point where I wasn't really enjoying it and it got to a point where it felt like people always wanted more," STPeach said. "I couldn't give them more."
Kotaku reached out to STPeach for comment.
The response to STPeach's decision has been very positive. Folks in her mentions were happy for her, especially considering how much money Fansly/OnlyFans creators can make. Mega-popular streamer Amouranth reported earning $1.5 million from Onlyfans in a September 2022 interview with Kotaku, with the intention ofquitting the lewd platform to invest more in Twitch. One person said that when it comes to STPeach, it's her body, her choice, while another said she did everything right if she's happier. In the end, all the comments echo the same thing: they respect her decision to prioritize her mental health.