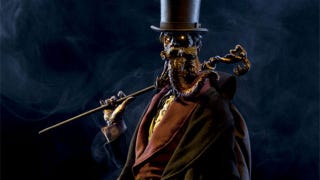 They never did catch that Jack the Ripper, did they? Some suspect it was all a Victorian plot. Others, a foe best left for the Dark Knight.
Turns out, at least according to this Halloween figure from Sideshow, he was neither. He was, quite literally, a monster. And quite a fetching one at that, if you're into original (as in, not based off an existing character) collectibles.
Standing a monstrous 25 inches tall, he's made out of a cocktail of materials that include polystone, metal, fabric and leather.
Part of the company's annual Spooktacular festivities, you can sign up for pricing and release info at the link below.
Jack the Ripper [Sideshow]
---