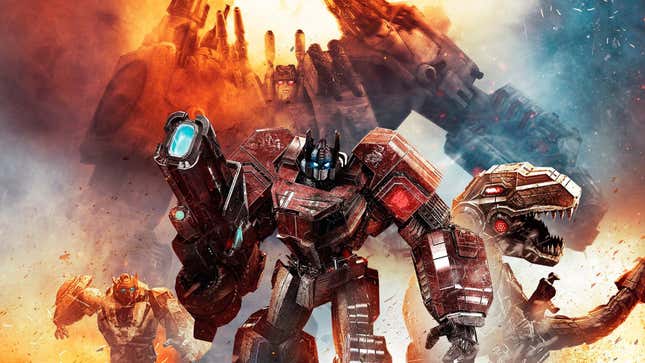 Remember those Xbox 360/PS3-era Transformers games? Wouldn't it be cool if you could easily buy and play those in 2023 on modern platforms? I think so. And so does Hasbro. But according to the toy company behind the popular transforming robot franchise, Activision has apparently lost the games and doesn't know where they're stored.

The Team Behind Tetris On The New Movie And Gaming History
Released in June 2010, Transformers: War for Cybertron was a well-received third-person shooter that got an equally great sequel in 2012, Fall of Cybertron. (And then in 2014 we got Rise of Dark Spark, which wasn't very good and was tied into the live-action films.) What made the first two games so memorable and beloved was that they told their own stories about the origins of popular characters like Megatron and Optimus Prime while featuring kick-ass combat that included the ability to transform into different vehicles. Sadly, in 2018, all of these Activision-published Transformers games (and several it commissioned from other developers) were yanked from digital stores, making them hard to acquire and play in 2023. It seems that Hasbro now wants that to change, suggesting the games could make a perfect fit for Xbox Game Pass, once Activision, uh…finds them.

In an interview with Transformers World 2005 posted on July 28, Hasbro talked about its new line of video game-inspired Transformers action figures. Some of these new toys are based on designs first seen in the Activision Cybertron games. So naturally, the site asked Hasbro about the possibility of re-releasing these popular games alongside the new toys. Unfortunately, that won't be happening.

"Sadly, apparently Activision's not sure what hard drives they're on in their building," Hasbro told TFW2005. "When a company eats a company that eats a company things get lost, and that's very frustrating."

Kotaku has inquired with Activision about the Transformers games' current status.

Hasbro wants to add the Cybertron series to Game Pass
Hasbro further added that the company hopes the merger between Xbox and Activision will lead to people digging through "all of the archives and every hard drive" to find the old games and bring them back. Hasbro even added that it thinks these games would make "easy" choices for Xbox's Game Pass.
"We want those games back up for people to have a chance to play," said the Hasbro rep.

Interestingly, Activision's lack of organization seems to have caused some headaches for Hasbro's toy designers who are working on the Gamer Edition figures. The toy company explained that it had to load up the games on their original platforms and play through them to find specific details they wanted to recreate for the toys.

"For World of Cybertron we had to rip it ourselves, because [Activision] could not find it—they kept sending concept art instead, which we didn't want," explained Hasbro. "So we booted up an old computer and ripped them all out from there. Which was a learning experience and a long weekend, because we just wanted to get it right, so that's why we did it like that."
Update 08/01/2023 5:15 p.m. ET: Some 24 hours after the original publication of this story, Activision's CCO and EVP of corporate affairs Lulu Cheng Meservey tweeted that the publisher has always had "the code" for the Transformers games, and that it was never lost.
On August 1, Axios' Stephen Totilo got a response from Activision pointing him toward a comment from Hasbro:
To clarify, comments that suggest Transformers games have been lost were made in error. We apologize to Activision and regret any confusion [as] they've been great partners and we look forward to future opportunities to work together.
While this seems to clarify matters, there are still some questions. Activision has yet to confirm if it actually knows where the source code for the games is specifically located. I also would love to know why Activision waited so long to comment (the initial interview was posted on July 28) and why Hasbro claimed to not have access to key assets when developing its toys based on the games.
It's also strange that Hasbro, which says it wants to put these games on Game Pass, hasn't done so for years now. If the games aren't lost, give 'em to Hasbro, then?
Hmm.