When mobile developer Kabam announced robot battler Transformers: Forged To Fight earlier this month, I assumed it was little more than a reskin of popular mobile fighter Marvel: Contest of Champions. With features like ranged attacks and 3D movement, it's more like an evolution.

Following the Forged to Fight announcement I had a chance to speak to the game's creative director, Cuz Parry, and while I mainly wanted to get a feel for which generations of Transformers characters were up for inclusion in this spring's mobile bot fighter, he gave me some insight into the fighting system as well.
Marvel: Contest of Champions is a fighting game that features 3D characters fighting on a 2D plane. Players tap, swipe and touch the screen of their tablet or phone to initiate attacks, block incoming damage and activate super moves. While dodging plays a role, the main back and forth is between hits and blocks.
Having spent the past two years working on Contest of Champions, Parry sees Transformers: Forged to Fight as a chance to implement fresh fighting game mechanics into the Contest of Champions mix. While the basic back and forth will still be present, Forged to Fight features the sort of advanced combat features necessary for an authentic Transformers experience.
Take ranged attacks, for example. Autobots and Decepticons punch each other, sure, but they've also got guns, missiles, lasers, chain cannons and other far-reaching instruments of destruction. Movie Megatron has an arm canon, and he's not going to shy away from sticking to the far end of the screen and firing that sucker off.
G/O Media may get a commission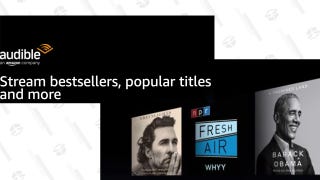 FREE
Audible Premium Plus 3-Month Free Trial
In order to keep players from being pinned down by heavy fire at the far end of the screen, Parry and his team have added sidestepping to the mix. Players with good timing will be able to step in and out of the battle plane when needed, the 3D movement allowing them to dodge, close and counter those pesky ranged attacks.
In the GIF below we see Hound transform and fire off his missile attack, followed by a graceful dodge by the king of dodging, Starscream.
Transforming plays a big role in combat, as it should. All characters in the game will feature special transforming attacks appropriate to their alt modes. Groundbased Hound fires off missiles. A character that changes into a jet might do a strafing run. A robot that turns into a rhinoceros might charge his foe.
Which brings us to the big question. Which Transformers are fair game for Forged to Fight?
While Parry couldn't go into specifics, it sounds like the entire Transformers universe is his team's oyster, thanks in no small part to the success of Contest of Champions. Kabam's shown it can handle a beloved license with a broad range, and it sounds like they'll be delving deep into Transformers history.
We've seen movie characters, we've seen reinterpretations of generation one bots and cons. We've got Windblade, the fan-created female Autobot who's been tearing through comic books, animation and toys.
According to Parry, Hasbro has already lifted the biggest barrier to cross-generational conflict, allowing Kabam to play with relative scale to give fighters of different sizes equal footing. That doesn't mean we'll be taking to the battlefield as massive combiners or titans like Metroplex and Fortress Maximus, but it does suggest my beloved Beast Wars Maximals and Predacons, much smaller than their Autobot and Decepticon ancestors, will have a chance to fight. In fact . . .
While I would have gladly accepted a simple Contest of Champions clone and called it a day, it looks like Transformers: Forged to Fight is going to be much more than that when it launches on mobile devices this spring.