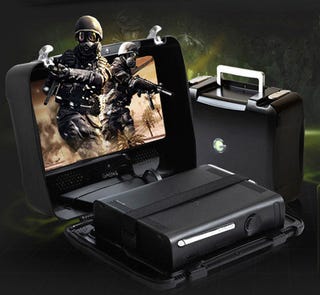 GAEMS, which stands for Gaming and Entertainment Mobile Systems, may have one of the stupidest company names in the business, but they also have one of the more original products with this Xbox 360 "suitcase".
It's a portable Xbox 360, 15-inch LCD screen (running at 720p) and a multiple speaker setup, all bundled neatly inside a sturdy plastic case that may not be armoured, but at least looks sturdier than a cardboad box or soft carry case.
The case (and everything inside except the console) is expected to sell for $250, and while there's currently only a version for the old Xbox 360, GAEMS reckon newer versions are on the way for the Xbox 360 S and PS3 Slim.
[via Technabob]