QUOTE | "Year one of VR is not going to see huge, AAA budgets... as more headsets get out there, and as we're growing our capabilities the scopes of the games will get bigger and bigger" - Ubisoft Red Storm creative director David Votypka, giving insight into why the publisher's first two VR projects—Eagle's Flight and Werewolves Within—are narrowly scoped experiences.

Elsewhere in the business of gaming this week...
STAT | 22% - The percentage of gamers over the age of 13 who are aware of the Oculus Rift, according to a Nielsen survey. PlayStation VR has 14% awareness, while HTC Vive has just 6%.
QUOTE | "We've been working through an unexpected component shortage, and unfortunately, that issue has impacted the original shipping estimates for some early customers." - An Oculus Rift email sent to customers who preordered last weekend, informing them of delays to the shipping schedule.
STAT | $549.69 - The average amount of money each Game of War - Fire Age player has spent on the free-to-play game, according to analysts at Slice Intelligence.
G/O Media may get a commission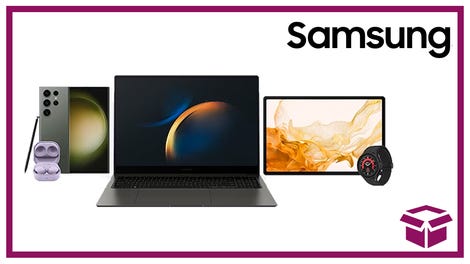 24 hour deals
Discover Samsung - Daily Deal
QUOTE | "Unity is a very interesting engine. The power is that it lets people who never could have made games on their own work in 3D space and make modern games, but you can also go wrong with it pretty easily." - Assault Android Cactus developer Tim Dawson on the difficulties of working with Unity on the PlayStation 4.
QUOTE | "The more I moved away from the operational game decisions, the better games we started producing. And that's a valuable lesson for me to learn." - Paradox CEO Frederik Wester embraces the virtue of running a company by letting smart people do what they do best.
QUOTE | "The Angry Birds brand grew at a rate that nobody had really seen coming from a mobile game before," Taht said. "We expanded very quickly in certain areas that didn't necessarily turn out to be so profitable." - Rovio's Wilhelm Taht reveals why the company is refocusing on its games business. In (possibly) related news, the Angry Birds movie comes out next month.
QUOTE | "The scale required, even for indie success, has changed. We had to start asking ourselves if we were doing a disservice by saying to studios, 'hey we'll give you $50K and a lot of coaching and you'll be fine.'" - Execution Labs' Keith Katz on why the indie game incubator has changed its focus from small investments in small developers to larger teams and larger sums.
QUOTE | "I'm working on this project because for all of my career - I've worked on Organ Trail and I've worked at mid-sized studios before and released other games - I didn't really feel like they were having the impact I wanted to have." - Culture Shock founder Michael Block, explaining the motivation behind We Are Chicago, a slice-of-life game about a family in a poor neighborhood on Chicago's South Side.
QUOTE | "You watch a company in the game industry that hires 50 people and it can be the kiss of death because it's 50 people who don't know how to work together. So we have to make sure we hire smart people who get along who are excited about the journey." - CastAR's Rick Johnson explains why the augmented reality company doesn't want to grow too quickly.
STAT | 25 years - The length of the Bala brothers' tenure at Vicarious Visions, the studio they founded and left this week. The studio was acquired by Activision in 2005 and worked on many of its biggest franchises, including Tony Hawk, Spider-Man, Guitar Hero, and Skylanders.
QUOTE | "Ultimately we decided that it was not fair to our readers to give them less than 100 percent, and that is something we haven't been able to do for several months due to outside commitments required to make a living and feed our families." - GamePolitics managing editor James Fudge, explaining why the site will shut down this month after 11 years of service.