QUOTE | "As Sam Houser reviewed more of the game that he had overseen for many years, he became more desperate writing to Mr. Benzies the very next day, 'This [RDR] is a (recurring) nightmare. But one i/we need to get out of. I have problems with the camera all over the place. So much so, that I can't be rational or specific about it. The darkness!!!' As reflected in his October 24, 2009 e-mail to Mr. Benzies, Sam Houser's desperation was escalating, 'PLEASE help me/us get rdr [Read Dead Redemption] into shape. I am a jabbering wreck right now. I need The Benz!'" - Text from a lawsuit brought against Take-Two, Rockstar, and the Houser brothers by former Rockstar North Studio head Leslie Benzies.

Elsewhere in the business of gaming this week...
QUOTE | "Games are where we started, they're the inspiration and innovation behind our platform technology, and they're an integral part of our long-term future." - MZ CEO Gabriel Leydon, reassuring players that the Game of War developer is still all about games, even though it just changed its name from Machine Zone and now refers to itself as a "technology company" focused on its RTplatform cloud platform.
QUOTE | "Of course there will be synergies, of course we will share stuff, but we would like to make sure they retain their identity and stay together as a team to do what they're good at." -Codemasters CEO Frank Sagnier lays out the hands-off plan for the newly acquired Evolution Studios.
STAT | 81% - The percentage of eSports fans who are male. While the industry's target demographics have been expanding for years, the eSports scene still looks a lot like the traditional gamer audience.
G/O Media may get a commission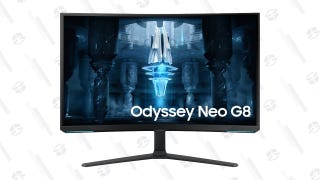 Samsung 32" Odyssey Neo G8 Curved Gaming Monitor
QUOTE | "We don't want it to become a Wargaming organization. We want the pro players to run it for the pro players, but we want to help them with things like legal advice and extra security so that they are better protected." - Wargaming head of European eSports Nicolas Passemard outlines the company's plan to help World of Tanks pros set up a players' union.
QUOTE | "The decision was incredibly difficult, and we did everything we could to maintain the company as it had been, but unfortunately, having two studios was just not sustainable in the long term." - Choice Provisions co-founders Mike Roush and Alex Neuse, on why the bit.trip publisher shut down its San Francisco offices.
QUOTE | "Turns out there's actually a thriving marketplace for people who are willing to pay up front. The message seems to be that if you make a decent game, people will pay for it." - Devolver Digital's Graeme Struthers on the company's takeaway from the launch of its first game for mobile devices, Downwell.
QUOTE | "That was one of our real insidious side goals of Shadow Complex because no one had made a Metroidvania since the '90s. It would be like if someone hadn't made a first-person shooter for ten years." - Chair Entertainment's Donald Mustard, conveniently forgetting a host of classic Game Boy Advance and DS games in both the Metroid and Castlevania franchises.
QUOTE | "When people are thinking about VR, they're thinking about all of the new things that they've never done before, but they haven't thought about the things they already love. I think, really, the entire industry is going to wake up to this." - Playful's Paul Bettner, suggesting that VR takes on traditional genres (like his studio's 3D platformer Lucky's Tale) will be big business.
QUOTE | "You have this classical curve where this year, everybody thinks that VR will happen very quickly. Then we're going to see the numbers and they'll be rather modest in the beginning. Then the media's probably going to go, 'Ah, VR didn't happen this time, either.'" - Resolution Games' co-founder Tommy Palm, predicting a media backlash to VR later this year and early next.
QUOTE | "If you get a free pass, of course there will be sessions you want to see. The Experimental Gameplay Workshop, for sure. You'll want to check out the IGF entries. Anything to make yourself believe that the industry isn't a brain-dead agglomeration of people working on version VI of a franchise, or a clone of something else, or some VR piece of crap because that's the new hotness and it's what the VCs want to see..." - Boss Fight Entertainment's Greg Costikyan offers advice for developers attending GDC next year.
QUOTE | "Thank you for this honor, but I'm just getting started." - Oculus' John Carmack, in his acceptance speech for the BAFTA Fellowship honoring his career in games.
Top image via Shutterstock Photo