QUOTE | "I can assure you we're not building the next version of Wii or Wii U. It's something unique and different. It's something where we have to move away from those platforms in order to make it something that will appeal to our consumer base." - Nintendo president Tatsumi Kimishima, emphasizing that the Nintendo NX will be a departure from the company's current consoles.
Elden Ring's Top Five Spells, According To FromSoftWare's Stats
Elsewhere in the business of gaming this week...
STAT | 10-12 million– The number of Nintendo NX units parts suppliers are expecting to ship next year. By comparison, the Wii U has sold about 11 million units since its launch in 2012.
QUOTE | "[T]he most powerful force in video games at the moment are women and gamers outside the United States... aka people that aren't white males." - Activision co-founder and StartEngine co-founder Howard Marks, arguing that equity crowdfunding will increase diversity in the industry's ranks.
QUOTE | "Mr. Kojima had every intention of being with us tonight, but unfortunately he was informed by a lawyer representing Konami just recently that he would not be allowed to travel to tonight's awards ceremony to accept any awards." - Geoff Keighley, explaining why the Metal Gear Solid V director did not attend the Video Game Awards.
G/O Media may get a commission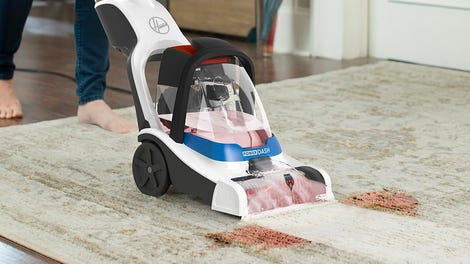 26% Off
Hoover PowerDash Pet Compact Carpet Cleaner
QUOTE | "As needed, we increase investments in some areas and de-invest in others which results in the movement of jobs across the organisation, and at times, job eliminations." - An official Microsoft statement after the company laid off 60 people from its HoloLens development team.
STAT | 32 years – The lifespan of UK publisher Mastertronic, which entered administration this week after an investment partner reneged on a financial commitment.
QUOTE | "Games tend to be marketed by numbers ('200 unique upgradeable weapons' or 'hundreds of additional cards'), and story is usually hard to quantify. 'Now with three stunning plot reversals' just doesn't cut it." - King of Dragon Pass creator David Dunham, explaining why strategy/management games don't have more story.
QUOTE | "My interest in gaming was from an early age. I've wanted to pursue the field for a very long time, and I thought that if I get to the best college I would probably get to where I want. It wasn't that way." - Indian developer and Dropout Games founder Ankush Madad, explaining why he dropped out.
QUOTE | "Although the ratio of promotion budget to production budget can be 1:5 for AAA games, it should be at least 1:1 for games needing less investment." - French trade group SNJV, expressing dismay that the average French studio devotes less than 12% of its budget to marketing.
QUOTE | "Regarding the digital game software field of the Entertainment Contents Business, competition in the Japanese market is intensifying." - Sega explains to its investors why its games take have been delayed or missed sales expectations, an explanation required when the company downgraded its revenue forecasts for the second time this year.
STAT | 1.49 million – The number of physical copies of Monster Hunter X for 3DS sold in Japan during its launch last week.
STAT | 591 – The number of Xbox One systems sold in Japan last week, trailing even the PlayStation TV.