QUOTE | "We are also continuing to invest in Kinect, and are looking forward to launching the Cortana personal assistant on Xbox One in 2016." - Microsoft's Larry "Major Nelson" Hryb, stressing that Kinect isn't dead even as Microsoft lets first-party software support sink to Vita-like levels and discounts the hardware in all its forms.
Elden Ring's Top Five Spells, According To FromSoftWare's Stats
Elsewhere in the business of gaming this week...
STAT | 13 million – Electronic Arts' projection for the number of copies of Star Wars: Battlefront it will ship… by the end of March, 2016.
QUOTE | "We need non-profit foundations that see the importance of supporting games along the margins-not to help turn them into developers of saleable games, but to allow them to make games from the messy, fragile lens of art." - Outgoing IndieCade co-chair John Sharp, in a blog explaining how he came to see developer-focused conferences as more of a problem than a solution for marginalized creators.
QUOTE | "Streamers and eSports athletes are the new celebrities." - Newzoo CEO Peter Warman explaining his research firm's partnership with eSports organization Fnatic.
G/O Media may get a commission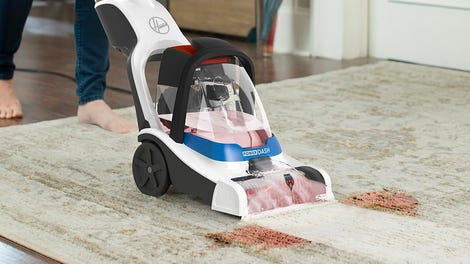 26% Off
Hoover PowerDash Pet Compact Carpet Cleaner
QUOTE | " So Long, and Thanks for All the Gamerscore!" - Eric Neustadter, Xbox Live's director of architecture, announcing his decision to leave Microsoft after 18 years.
STAT | Well over 25 million – The current PlayStation 4 installed base, according to SCE Worldwide Studios VP Michael Denny.
STAT | 39 million –Xbox Live monthly active users, as reported by Microsoft. The Xbox One maker has stopped reporting hardware sales figures, but its replacement stat doesn't say how many of those users pay for Xbox Live Gold, or how many are playing on Xbox One systems.
QUOTE | "The very low end of mobile game development seems likely to go away, or it will truly become like hoping to get hit by lightning." - Kabam president Aaron Loeb, sharing his company's expectation for the future of mobile games.
QUOTE | "More people played RedLynx's free games on phones and tablets than they did on consoles and PC." - Atte Ilvessuo, co-founder of Trials developer RedLynx and founder of upstart mobile studio MotionVolt, putting into perspective the scope of his past experience on mobile.
STAT | $1.9 billion – Research firm Superdata's estimate for worldwide revenues from eSports in 2018; That figure assumes the market will more than double in the next three years, and includes sponsorships and advertising, wagering, fantasy sports sites, prize pools, amateur tournaments, merchandise, and ticket sales.
QUOTE | "Technologists, artists, and fans should not have to get permission from the government-and rely on the contradictory and often nonsensical rulings before investigating whether their car is lying to them or using their phone however they want." - Electronic Frontier Foundation Legal Director Corynne McSherry, shortly after the EFF was victorious in winning an exemption allowing users to bypass DRM on some abandoned games.
QUOTE | "The way the industry's changing today, your tails aren't as long. There's so much content that comes out, you can't rely on two or three years of revenue from a game like you could in years past." - Double Eleven COO Mark South, explaining why his company specializes in ports of proven games instead of original IP.
QUOTE | "We take our responsibilities with regards to our fans, especially children, very seriously and would never knowingly ignore the ASA or any directives relating to our responsibilities." - Mochi Monsters developer Mind Candy, explaining why it hadn't fixed its advertising months after the UK's Advertising Standards Authority violated codes in how it pitched subscription services to children.