QUOTE | "I think there are a lot of caveats [Sony's] giving customers right now around 4K." ­– Albert Penello, senior director of product management and planning at Xbox, commenting on how PS4 Pro compares to Microsoft's upcoming Scorpio console.

Elsewhere in the business of gaming this week...
QUOTE | "I think there's going to be a billion people in VR in the next ten years, and that's going to come from mobile." – Unity's Clive Downie talks up the potential of VR at DICE Europe even as heavyweights like Apple's Tim Cook see limited commercial appeal in the tech compared to AR.
STAT | 450,000 – The number of copies that developer Frictional Games has managed to sell of its horror game Soma within a year of release, making it a profitable project for the studio.
QUOTE | "Games can often sell themselves. I'm not diminishing the value of normal marketing. It's done for a reason ­ because it works. But also, from the indie perspective, you're not looking to compete with big marketing budgets." ­ – Superhot's Piotr Iwanicki speaking about finding success with limited resources.
G/O Media may get a commission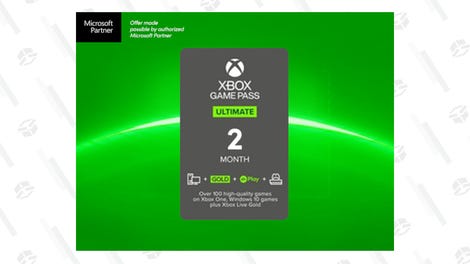 70% Off
Xbox Game Pass Ultimate Two-Month Subscription
QUOTE | "Be ready to kill the game if it's not performing well. You should remember Supercell here, and copy the same critical approach." – AppAgent's Peter Fodo explaining 10 soft launch pitfalls and how developers should look to avoid them.
STAT | 51 percent – The stake that Clash of Clans company Supercell has invested in Badland developer Frogmind.
QUOTE | "I haven't seen an opportunity this promising or an industry that was this in need of change and potential growth since I switched from making big budget console games into mobile games in 2010." – Gamblit CMO Darion Lowenstein talking about bringing AAA games like Brookhaven Experiment into casinos.
QUOTE | "The NX is trying to change the concept of what it means to be a home console device or a hand­held device." – Pokemon Co. president and CEO Tsunekazu Ishihara commenting on Pokemon GO being released on Nintendo's upcoming console.
QUOTE | "We recognize that we can help rebalance the scene by accelerating some of our longer-term economic tactics to help address short­term pain felt by many of our partners." – Riot Games explaining why it's committing to revenue sharing with LoL eSports players.
QUOTE | "We're still in the early stage of VR, and I'm not really expecting it to truly develop for another 18 months to two years." ­– Climax Studios CEO Simon Gardner discussing his company's approach to the nascent VR market and how you can enter with a smaller investment.