This week on Retro Game Master The Kacho takes on Tecmo platformer Mighty Bomb Jack.
Mighty Bomb Jackwas released in 1986 for the arcade and the following year for the Nintendo Entertainment System. In the game, Jack makes his way through a 16-level pyramid on his way to defeat the demon Belzebut and rescue a royal family. The game is packed with oddities, like a rule that punishes a player for collecting coins too quickly, hidden passages found behind Sphinx and time-extending magical potions.
The show goes live only on Kotaku at 8 p.m. eastern this Thursday, followed by more weekly episodes "airing" on Kotaku at the same time and day through September. And unlike with television, these episodes will stick around on our site so you can watch them at your own leisure.
Game Center CX produced 15 seasons of gaming content in Japan, with Shinya Arino playing through dozens of Famicom, Super Famicom, PC Engine and Mega Drive games. These first U.S. airings of the episodes includes English captions for Arino and English dubbing for his off-camera announcer.
If you missed it, make sure you go watch last week's episode now. Licensing prevents the show from being seen outside of North America.
G/O Media may get a commission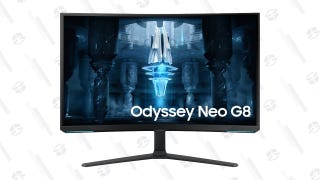 Samsung 32" Odyssey Neo G8 Curved Gaming Monitor
---
Retro Game Master has a new home in North America, streamed live on Kotaku every week at 8 p.m. eastern.
But what if you miss it?
Don't worry, we've got your back. More »
---
People don't tune into Japanese television show Retro Game Master to watch Shinya Arino whip through video games effortlessly. They tune in to watch him fail, and fail, and fail, and perhaps to finally, painfully succeed. More »
---