And it's not half bad! Well, I might actually call it half bad, half good.
The game is called Star Warfare: Black Dawn, made by Freyr. It seems to be their latest addition to their Star Warfare series.
Elden Ring's Top Five Spells, According To FromSoftWare's Stats
They're calling it the "first RPG-FPS" game, but that can't be true. That's kind of what Borderlands' claim to fame was, wasn't it?
When you first open the game up, you'll eventually get around to choosing one of four characters. Here they are...
G/O Media may get a commission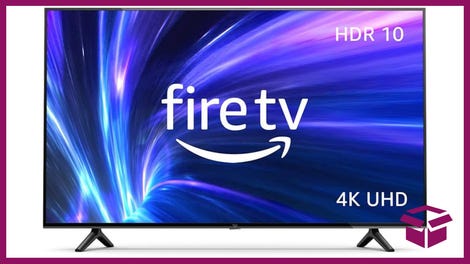 42% Off
Amazon Fire TV 50" 4K Smart TV
The Engineer:
The Prayer:
The Sniper:
And the Soldier, the class I picked for my test run:
This is what her skill tree looks like:
But the first thing you'll do when you enter the game is meet an NPC:
So far I notice that the weapons, the loot chest and the overal art design seem pretty familiar. Definitely not spot on, as Borderlands is leaps beyond what this iOS game does, but it's at least a nudge in Gearbox's direction.
The NPC is telling me something about something, I wasn't paying attention too closely. He was pretty chatty and he kept laughing at his own jokes. He gives me a tutorial run down of some things, and off I go.
I immediately bump into some players, and am asked by the game if I'd like to join them. Sure, I'd love to. That's what Borderlands, er, Star Warfare: Black Dawn is all about.
Or at least that's what it advertises.
My new friends and I head off to fight some enemies. Here's the full image of the one on the top of this article:
The mechanics are all very familiar. There's even a revive system:
But the English in this game seems kind of broken.
There are even fanciful-looking bosses!
Here's the thing. The game is actually not awful if you're just looking for a multiplayer FPS for your iPhone or iPad where you can play with others online. You can even soon play PvP according to the iTunes page. Here's everything they posted about the game over there:
"A premier FPS (First Person Shooting) game with RPG element exclusive to iOS.
A total of 4 classes with more than 100 skills and numerous random attribute equipment drops are at your disposal.
Fight through large maps, challenging quests, and online multiplayer system.
Come and join the adventure team on the Muspel Planet!

==========Next update===========
1. PvP mode!!
2. Character decoration!!

Classes and Skills:
✓ Four classes with unique characteristics
✓ Eight adventurers with different backgrounds
✓ 12 diverse game styles
✓ Hundreds of skills and numerous combinations

Long Adventure:
✓ Great scenery in complex maps that are fun to explore
✓ Immersive principal narrative with comical branch stories
✓ Amusing plot focused task contents develop gradually to keep the story novel.
✓ Brutally challenging levels.

Teamwork:
✓ 4 persons co-op
✓ Team task mode will help you upgrade rapidly.
✓ Earn victory in Teamwork arena.
✓ Strategic team dynamics.

Weapon List:
✓ Various elemental weapons affect enemies differently.
✓ Randomly generated weapon drop system guarantees satisfying combat.
✓ Seven categories of weapons to obliterate varied battlefields.

Fight against Boss
✓ Epic fight scenes
✓ Powerful Boss will rock your survival skills.
✓ Designed for unique encounters each boss fight.
It has the basic mechanics of Borderlands, including in terms of weapons, classes and the overall feel. It has none of the charm, wit, or style of Gearbox's fantastic series, though. But it is the closest thing to a Borderlands game on the iOS, since the official one isn't quite like the game it's based off of at all.
I've reached out to both 2K and Freyr for comment, and will update this article should they reply.
Thanks to Cory for the tip!