Indie developer Derek Yu's Spelunky is making the platform leap from PC to Xbox Live Arcade some time this year, a release date we're starting to believe courtesy of a quartet of new screen shots.
The procedurally generated action adventure platformer—not to be confused with Spelunker HD for PlayStation Network—which Yu describes as "La Mulana meets Nethack"—or side-scrolling platformer meets roguelike—stars a wee Indiana Jones-like adventurer on the hunt for gold, exits and frequent deaths. The XBLA port promises new artwork, new gameplay modes and a new way to shave days off your life.
If you'd like to download the free PC version, you can grab it from Yu's web site, then greatly anticipate the superior XBLA version.
Or you can just gaze at new screens in Xbox 360 resolution.
G/O Media may get a commission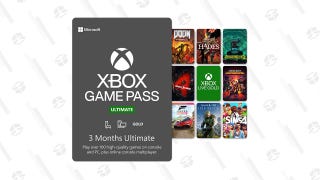 Save 11%
Xbox Game Pass Ultimate: 3-Month Membership