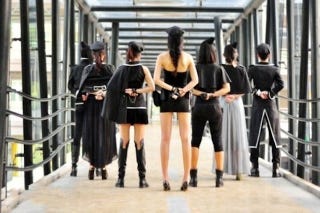 Summer's here, and for Chinese college students this means two things: summer vacation and/ or graduation! To celebrate their graduation and their friendship, a group of graduating students got together to cosplay their favorite characters from the first person shooter Cross Fire.
This group of students, eight in number, are part of the graduating class of 2013 at Hunan province's Central South University. Having played CF during their four years together, they decided to get together to show off their love for CF.
Cross Fire is a first person shooter developed by South Korea's SmileGate. It was shut down in Korea in 2012 but still operates in China. There, the game has a cult following akin to that of Counter-Strike. There is currently a version available to play in the US.
Kotaku East is your slice of Asian Internet culture, bringing you the latest talking points from Japan, Korea, China and beyond. Tune in every morning from 4am to 8am.
Eric is Beijing based writer and all around FAT man. You can contact him @FatAsianTechie@gmail.com or follow him on Twitter @FatAsianTechie.