Of all the free-to-play mobile games I've"donated" to, none received more of my hard-earned cash than Big Blue Bubble's magical monster music game. Now there's a sequel, and I am already hooked.
My Singing Monsters is a clever combination of music and monster breeding. You begin with a single creature that makes a sound at regular intervals. Then you get another which makes a different sound. Then you breed those two for a third monster, and suddenly you have the makings for a song. Each new creature adds a new aspect to the melody. A compelling musical mystery slowly unravels on your screen.
Now we have My Singing Monsters: Dawn of Fire, available for free download on iOS and Android, and I was completely charmed by the very first note.
Dawn of Fire is a prequel to the original game, but it's a prequel that's more complicated and convoluted than ever before. In the first game all the player had to worry about was upgrading each musical stage's castle in order to have enough room for new creatures and growing generic food on farms to level up their creatures.
G/O Media may get a commission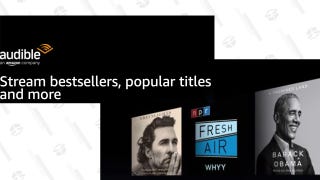 FREE
Audible Premium Plus 3-Month Free Trial
Apparently those singing critters were much more particular in the past.

Bambuzzel wants wheat and coconuts, products of two different specialty buildings. Bambuzzel is going to have to wait. His request is relatively simple, but those coconuts take five minutes to grow. Plus once I feed him these things he;ll want coconut custard or apple sauce from the fruit press or apple cobbler from the bakery. Maybe he'll need a pan pipe crafted from bamboo grown in the thicket and assembled at the workshop.
Needy jerk.
There's a lot more to build and make and manage here. Players have to juggle inventory with storage size. Monsters need to be evolved to a certain level before they can travel through a teleporter to new lands with new songs. Upgrading the castle is particularly difficult—I'm all out of beds right now cand can;t make the required upgrade materials for another player level.

That means this poor creature will remain in egg form until I level up enough to upgrade the castle or buy enough gems to skip the upgrade steps.
Frankly I'm a bit disappointed. Perhaps other players were clamoring for added complexity, but I see all of this crafting as obstacles between me and musical nirvana.
I need to know where this song goes, but I've got to be patient. I'm not spending any money on My Singing Monsters Dawn of Fire.
Other than the $7 I've already spent. Where'd I put that college fund?
Contact the author, My Singing Fahey, at fahey@kotaku.com or follow him on Twitter at @bunnyspatial