After nearly 11 years of humanoid player characters, Turbine updates ancient MMO Asheron's Call with a new playable race, with three more on the way this year.
Every time I see news about Asheron's Call, my initial reaction is surprise. They still run this game? I played for a month or so after the game was first released in 1999, but soon moved on to more productive things, like EverQuest. Still, to see my first real 3D MMO going strong does me proud, even if I have no desire to play it.
Fans who've stuck with the game, however, are still getting plenty of new content from the developers. The recently released Spring Update introduces several new features to the game, including multi-slot armor, a barbershop to change your looks, a new type of magic, and a new playable race called the Shadow, Asheron's Call's first non-human playable race.
The Shadow is only the first of four new player races being added to the game, with plans in place to introduce a new race every two months following the Spring Update.
The only thing that amazes me more than the fact that Asheron's Call is still going strong is the amount of work Turbine is putting in to make sure its players are having a good time.
G/O Media may get a commission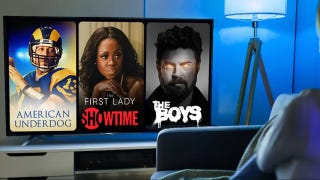 UNDER $1
99¢ Prime Video Channels
Asheron's Call adds new playable race and more in latest update [Examiner.com]