We've got ourselves a new 3D classic in this week's Nintendo Download.... TwinBee. Remember TwinBee? Konami shooter? Only released in Japan?
I asked Twitter if the game was any good and Twitter, in the form of @c_pruett told me: "It's a nice top-down shooter for people who wouldn't play other top-down shooter. Popular with women, I'm told."
I'm no woman, but maybe I'll try it out? (I was also told by Twitter, in the form of @ErrorJustin, "fucking YES." Sorry for the salty language.
Whether you own a 3DS, Wii, DSi, or DSiXL Nintendo has a new game for you to download today. Investigate your 2D and 3D options below:
eShop (3DS)
G/O Media may get a commission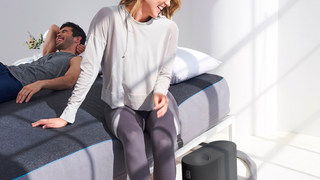 Eight Sleep Pod Cover

3D Classics: TwinBee
Publisher: Nintendo
Price: $4.99 / 500 DSi Points
A hit sensation back in the day, this vertical-scrolling arcade game only made its release on the Famicom. Now, for the first time ever in North America, 3D Classics: TwinBee presents the old shooter along with a new 3D look for your enjoyment!
Guide the spacecraft, TwinBee, as you dodge and destory waves of aerial and ground enemies. If you get hit and lose both of your ship's arms, find an ambulance for repairs quickly! Shoot through the clouds to uncover bells. Collect these for extra points, or continue to shoot at them to gain different upgrades for your ship! Additional power-ups can also be collected from the ground!
Fly high in the sky with your anthropomorphic spacecraft in this new release of a classic!
---
DSiWare (3DS and DS)

Break Tactics
Publisher: AgeTec, Inc.
Price: $4.99 / 500 Nintendo Bucks
Welcome to the war, Commander!
The flames of war raged unabated... What began as a skirmish over the border of two neighboring states flared into a bitter war that has dragged on for over a decade. The Lancaster Empire and the Duchy of Meroving are the two powers that threaten to engulf the entire continent.
Break Tactics is a full-scale tactics game. Recruit and deploy units, strategies and engage in epic battles leading your men to victory. As Commander you can increase levels, attacks and movements. Your units can increase hit points, offense and defense strength. Determine battle objectives and deploy the best units for each battle. Take full advantage of the terrain and use items to gain an advantage. Earn Break points to upgrade and level up your units. Command your army to victory and end this war once and for all.
Escape Trick: Ninja Castle
Publisher: Intense Co.
Price: $4.99 / 500 Nintendo Bucks
Escape Trick: Ninja Castle provides for an enjoyable game play experience for everyone by solving puzzles and using items. The game is full of action elements such as using Ninjutsu by drawing a circle, taking a picture and sticking it on the Memo screen, and by using the camera feature to enjoy the "escape game."
Features:
-Tricky escape adventure
-Solve puzzles by using unique items
-Use Ninjitsu and abilities to defeat enemies
-Use the DSi Camera to post pictures to the Memo screen
---
WiiWare

Aya and the Cubes of Light
Publisher: Intense Co.
Price: $10.00 / 1000 Nintendo Bucks
Keep on the Light! Solve the cubic mazes and rekindle the stars! Exceptional hybrid of puzzle, platform game and 3D action!
What's gotten into Cseom!? Instead of keeping the Cubes running, he's taking the Energy Packs out of the terminals! The Cubes are the power sources of the stars, and if they stop working it gets dark!
Play Aya, the daughter of the Cube Corporation. Teleport onto the Cubes to collect the Energy Packs to get the Cube engines working again. But it's not that easy to find your way around; you'll have to think around outside the box and mustn't get disorientated, even when you're upside down!
---
---
You can contact Stephen Totilo, the author of this post, at stephentotilo@kotaku.com. You can also find him on Twitter, Facebook, and lurking around our #tips page.