I have no problem whatsoever with purchasing toys to unlock new characters and powers in a video game — as long as those toys aren't sold randomly in blind packs, like Disney Infinity's Power Discs.
The idea is rather cool — these colorful circular and hexagonal discs can be placed on the Infinity base under your characters to unlock new powers and equipment or change the scenery of the entire world. I got to see them in action during Comic-Con earlier this month, and damn do I need to get my hands on that Wreck-It Ralph Sugar Rush disc.
I wonder how many $4.99 blind packs I'll have to buy to get it.
I hate blind packs. I hate doubles. I hate the idea of paying for something not knowing what it actually is, or if I even want it. So yeah, not a big fan of these.
G/O Media may get a commission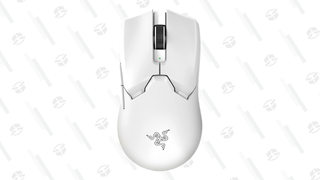 15% Off
Razer Viper V2 HyperSpeed Wireless Gaming Mouse
Pro gaming
ses a focus pro 30k optical sensor for unreal accuracy, is only 59g which puts little-to-no pressure on your wrists and allows for faster response times and longer sessions, has switches that last for 90 million clicks, has an absurdly fast wireless connection, and a battery life of up to 80 hours.
Maybe it's just me. The idea is for kids to collect and share, after all. Maybe that concept is making a comeback. I figured they'd all moved on to file-sharing on the internet.
See below for the initial lineup of Power Discs being randomly slipped into 2-packs next month.
Circular Discs

Bolt's Super Strength – Character that you're playing with does 10% more damage
Fix It Felix's Repair Power – Character you're playing with has 20% more health
C.H.R.O.M.E's Armor Shield – In-game character receives -10% less damage
Pieces of Eight – In-game character gains 10% more loot

Hexagonal Discs

Mickey's Car – Drive Mickey's Jalopy in the Toy Box
Cinderella's Coach – Drive Cinderella's Carriage in the Toy Box
Kahn– Ride Kahn the Horse from "Mulan" in the Toy Box
Stitch's Blaster – In-game character gets Stitch's blaster from "Lilo and Stitch"
Carl Fredericksen's Cane – In-game character gets Carl's cane from "Up"
Sugar Rush
King Candy's Dessert Toppings Texture Set– Adds a "Sugar Rush" theme from "Wreck-it-Ralph" to Toy Box terrain objects
Sugar Rush Sky Skydome – Adds a "Sugar Rush" theme from "Wreck-it-Ralph" to the Toy Box sky
Alice in Wonderland
Alice's Wonderland Texture Set – Adds an "Alice in Wonderland" (animated film) theme to Toy Box terrain objects
Tulgey Wood Skydome – Adds an "Alice in Wonderland" (animated film) theme to Toy Box sky
Finding Nemo
Marlin's Reef Texture Set– Adds a "Finding Nemo" theme to the Toy Box terrain objects
Nemo's Seascape Skydome – Adds a "Finding Nemo" theme to the Toy Box sky
Tangled Lantern
Rapunzel's Kingdom Texture Set – Adds a "Tangled" theme to Toy Box terrain objects
Rapunzel's Birthday Sky Skydome – Adds a "Tangled" theme to the Toy Box sky
Rare Hexagonal Discs
Dumbo the Flying Elephant – Adds the Dumbo ride from the Parks in the Toy Box

Abu the Elephant – Adds the elephant version of Abu in the Toy Box

Astro Blasters Space Cruiser – Adds the Astro Blaster vehicle from the Buzz Lightyear attraction in the Toy Box