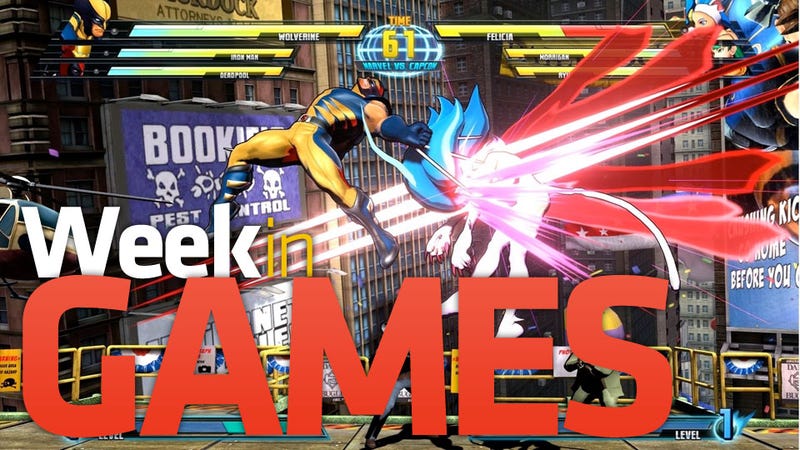 It is a week of lengthy game names, with the Fate of Two Worlds at stake, one game imploring to Let Us Cling Together and one visit to the Realm of Revelation. What new games await us, Kotaku readers?
A new Marvel Vs. Capcom, a new Tactics Ogre and a new old Dragon Quest, quite possibly the biggest new releases in store for the week that kicks off with Valentine's Day. Two new Kinect games arrive, the video game that lets you play with girls as video game consoles comes stateside and three Gears of War products come together in a triple pack.
Monday (Feb. 14)
Dragon Quest VI: Realm of Revelation (DS)
Tuesday (Feb. 15)
Marvel vs. Capcom 3: Fate of Two Worlds (PS3, Xbox 360)
Tactics Ogre: Let Us Cling Together (PSP)
Hyperdimension Neptunia (PS3)
Dance Paradise (Xbox 360)
Gears of War: Triple Pack (Xbox 360)
Brunswick Pro Bowling (Xbox 360)
Wednesday (Feb. 16)
Hard Corps: Uprising (XBLA)
Thursday (Feb. 17)
Looking Ahead
Feb. 22: Bulletstorm, Killzone 3, Radiant Historia, de Blob 2, Knights Contract. March 1: Fight Night Champion, Rift. March 6: Pokemon White, Pokemon Black March 8: MLB 11 The Show, Major League Baseball 2K11, Dragon Age II, Patapon 3.
What are you getting? What do you want? What are you looking forward to? Sound it off below, and at #twig.