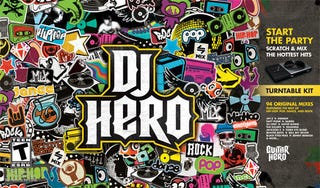 See how I mashed up Tekken 6 and Forza Motorsport 3 in the headline there? It's my homage to DJ Hero, another of the big-name titles hitting retail store shelves this week.
The fall gaming season is beginning to pick up this week, with those three titles releasing alongside Ratchet & Clan Future: A Crack in Time and Grand Theft Auto: Episodes from Liberty City this week. Borderlands finally makes its PC debut, while Ubisoft brings not one but four Petz titles to store shelves for the PSP and Nintendo DS.
This week's count: 20 for DS; 19 for Wii; 10 for 360; 8 for PSP; 6 for PC; 5 for PS3; and 4 for PS2.
Monday (Oct. 26)
Are you Smarter Than A 5th Grader?: Game Time (Wii, DS, 360)
The Backyardigans (DS)
Borderlands (PC)
Hasbro Family Game Night (DS)
Hasbro Family Game Night 2 (Wii)
Mytran Wars (PSP)
Nerf N-Strike Elite (Wii)
Ni Hao, Kai-Lan: Super Game Day (Wii, PS2)
Spongebob: Truth or Square (Wii, PSP, DS, 360, )
World of Zoo (Wii, DS, PC)
Tuesday (Oct. 27)
100 All-Time Favorites (DS)
Adventures To Go! (Gamestop Exclusive, PSP)
All Star Cheer Squad 2 (Wii)
Atelier Annie Alchemists of Sera Island (DS)
Barbie and the Three Muskateers (Wii, DS)
Ben 10: Alien Force Vilgax Attacks (360, Wii, PS2, DS, PSP)
Chronicles of Mystery:Curse of the Ancient Temple (DS)
CSI Deadly Intent (360, Wii, PC)
CSI Deadly Intent: The Hidden Cases (DS)
Dance Dance Revolution: Hottest Party 3 (Wii)
Dance Dance Revolution X2 (PS2)
Diner Dash: Flo on the Go (DS)
DJ Hero (360, PS3, PS2, Wii)
Drawn to Life: Next Chapter (Wii, DS)
Dream Salon (DS)
Fairytale Fights (360, PS3)
Forza Motorsport 3 (360)
Hidden Mysteries Titanic (Wii, DS)
Jewel Quest Mysteries (Wii)
Jurassic the Hunted (360, PS3, Wii, PS2)
League of Legends: Clash of Fates (PC)
Sim Animals: Africa (Wii, DS)
Tekken 6 (360, PS3)
Petz Dogz Family (PSP)
Petz Dolphinz Encounter (DS)
Petz Hamsterz Bunch (PSP)
Petz Saddle Club (PSP)
Press Your Luck 2010 Edition (Wii, DS, PC)
Ratchet & Clank: A Crack in Time (PS3)
The Stronghold Collection (PC)
Sushi Academy (DS)
Tinkerbell and the Lost Treasure (DS)
Wednesday (Oct. 28)
Inferno Pool (360)
Thursday (Oct. 29)
Grand Theft Auto: Episodes from Liberty City (360)
Friday (Oct. 30)
Ghostbusters (PSP)
Remington North American Bord Hunter (Wii)