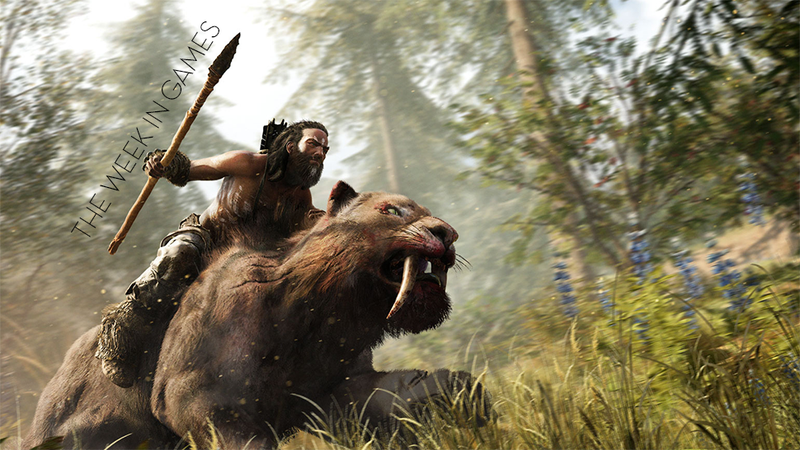 Thog love kitty. Kitty Thog friend. Thog and kitty always together. Thog name kitty Phsteven. Good Phsteven.
Games come. Thog fear games. Games scare Thog. Phsteven keep Thog safe. Thog want to play Agatha Christie.
Tuesday, February 23
Far Cry Primal — PS4, Xbox One
Agatha Christie: The ABC Murders — PS4, Xbox One, PC
Plants Vs. Zombies Garden Warfare 2 — PS4, Xbox One, PC
Toki Tori 2+ — PS4 Digital
Wondershot — PS4 Digital
SwapQuest — Vita Digital
Replay: VHS is Not Dead — PS4 Digital
Ninja Senkai DX — PS4, Vita Digital (Cross Buy)
Knock Konock — Vita Digital (Cross Buy with PS4)
Hitman GO: Definitive Edition — PS4, Vita Digital, PC
The Walking Dead: Michonne Episode One — PS3, PS4, Xbox One, Xbox 360, PC
Mega Man Legacy Collection — PS4, Xbox One (retail debut), 3DS
Wednesday, February 24
Friday, February 26
Bit.Trip Runner 2 — PS4 Digital (Cross Buy with Vita)

Tiny Troopers: Joint Ops — Xbox One Digital
Master of Orion Early Access — PC
Saturday, February 27
Pokemon Red, Blue and Yellow — 3DS eShop

Coming Soon
Tuesday, March 1
Motal Kombat XL — PS4, Xbox One

The Witch And The Hundred Knight Revival Edition — PS4
Heavy Rain — PS4
Return to PopoloCrois: A Story of Seasons Fairytale— 3DS
XBlaze Code: Embryo — PC
Far Cry Primal — PC
Wednesday, March 2
BlazBlue: Chronophantasma Extend — PC

Friday, March 4
The Legend of Zelda: Twilight Princess HD — Wii U

See anything we missed? Got a fresh indie or mobile game you've got your eye on? Sound off in the comments!