This week brings Lovecraftian nightmares, demonic entities on the Switch, and some hearty kingdoms.
In the immediate wake of Red Dead Redemption 2, we've got a real mix of different games to check out. It's a week of compilations, as the omnibus Kingdom Hearts: The Story So Far is releasing alongside the LEGO Harry Potter Collection to finally bring the child wizard to a plenitude of platforms.
It's also yet another good week for Switch ports. Hidden Folks and Diablo III are making their way to the portable device, and they're both probably going to be pretty darn good on the go.
The mysterious Call of Cthulhu lands on Tuesday as well, and I'm legitimately curious about what kind of mind horrors are going to eat me / my brain / my soul in that game.
Anyway, that's enough talking from me. Here's a list of games that are coming out in the next couple weeks!
G/O Media may get a commission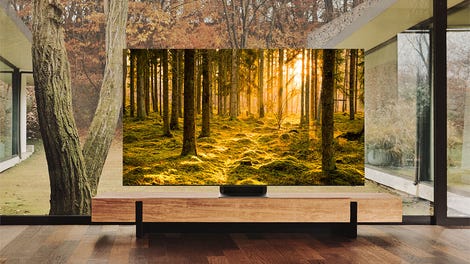 Up to 40% off
Samsung Smart TVs
Monday, October 29
Corpse Party: Book of Shadows | PC

SkyScrappers | Switch
Tuesday, October 30
Call of Cthulhu | PS4, Xbox One, PC

Chronus Arc | PS4, PS Vita

Dream Daddy: Dadrector's Cut | PS4

Gal Metal | Switch

Gnomes Garden 2 | Xbox One

Infinite Adventures | PS4, Xbox One

Kingdom Hearts The Story So Far | PS4

LEGO Harry Potter Collection | Xbox One, Switch

Mutant Football League: Dynasty Edition | Xbox One, Switch

OK K.O.! Let's Play Heroes | Switch

Paper Dolls | PS VR

Redeemer: Enhanced Edition | PS4

Save Me Mr Tako | Switch, PC

Steven Universe: Save the Light | Switch

Sports Party | Switch

Yomawari: The Long Night Collection | Switch
Wednesday, October 31
Death Mark | PS4, PS Vita, Switch

Gloom | PC

Hidden Folks | Switch

Knock Knock | Switch

Numbala | Switch

The One We Found | Xbox One

Super Pixel Racers | PS4

Super Volley Blast | Xbox One
Thursday, November 1
The First Tree | Xbox One

Kitty Love - Way To Love For Love | Switch

Machinarium | Switch

The Quiet Man | PS4, PC

Super Pixel Racers | Xbox One

Super Volley Blast | PS4

Transistor | Switch
Friday, November 2
Diablo III: Eternal Collection | Switch

Gem Smashers | Xbox One

Legends of Catalonia: The Land of Barcelona | PS VR

Nekopara Vol. 1 | PS4

Revenge of the Bird King | PS Vita

Shadow of Loot Box | PS4

Taiko no Tatsujin: Drum Session! | PS4
Coming Soon
Monday, November 5
Tuesday, November 6
Full Metal Furies | Switch

Grip | Switch

Rogue Legacy | Switch

The Shapeshifting Detective | Switch, PC

Overkill's The Walking Dead | PC

World of Final Fantasy Maxima | PS4, Xbox One, Switch, PC
Wednesday, November 7
Deru - The Art of Cooperation | Switch

Leisure Suit Larry - Wet Dreams Don't Dry | PC
Thursday, November 8
Astebreed | Switch

Battlezone Gold Edition | Switch

MechaNika | Switch

Rage in Peace | Switch

Sky Force Anniversary | Switch

Syberia 1 & 2 | Switch
Friday, November 9
Hitman 2 | PS4, Xbox One, PC

Noir Chronicles: City of Crime | Switch

Tetris Effect | PS VR

Townsmen | Switch