Many of anime's most famous characters live in rather expensive Japanese houses. Take Sailor Moon, for example.

As Nico Nico News reports, light novel author Sow recently did a series of tweets in which he attempted to value famous anime houses by comparing them to current real estate prices for "typical homes."
For example, the family home in Sazae-san, one of Japan's most iconic anime. A house that large, able to house two generation of families, in Tokyo's Setagaya would cost today the equivalent of $1.321 million.
The Nobi residence from Doraemon is a "normal" 1970s style home. According to Sow, a two-story house like this in Tokyo's northwestern Nerima ward would cost $616,000. That would mean a monthly mortgage of approximately $1,760. Even if the Nobi family was renting, it should still cost on average around $1,408.
G/O Media may get a commission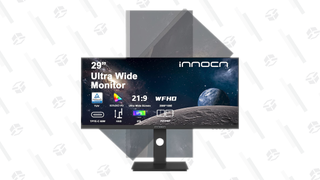 39% Off
Innocn 29" Ultrawide Computer Monitor
Shinnosuke of Crayon Shin-chan lives in Kasukabe, Saitama Prefecture. On average, a house there of that size would cost around $176,000, Sow writes. He also points out that Shinnosuke's mother works at home and the family has a car, so the father must be doing fairly well.

Usagi from Sailor Moon lives in Tokyo's Azabu-Juban. Sow points out that a standalone house (with a garden) of that size would cost nearly four million dollars. Remember, housing and land prices are cheaper now than they were in decades past, so when Sailor Moon debuted, Usagi's family home might have been even more expensive.

Things change and Sow pointed out that because Tokyo is so expensive, in recent years more characters live in the surrounding areas.
Another thing Sow noted was that in the past "normal" was married couples or families with children with the father as the breadwinner, but these days "normal" is living alone without family members.