The Dallas Fuel and Houston Outlaws both had matches to play last night. Both teams needed a win, and neither found one. It was a tough evening for Texas fans that highlighted both teams' ongoing issues in the second stage of the Overwatch League.
The Houston Outlaws had an incredible showing in stage one, surging up from an 0-2 start to make the stage playoffs, before just barely losing out to the Spitfire.
But this current meta-game has not been kind to the Outlaws. The team went 0-2 this week, especially tough when it managed to take a surging Los Angeles Gladiators to extra rounds yet still suffered defeat.
Ask anyone and you'll get a few answers as to why the Outlaws are struggling, but most of them revolve around the current state of the game not being as conducive to their play as stage one's was. The lack of a standout Tracer player means teams can focus on other threats and not worry about their supports getting picked off.
G/O Media may get a commission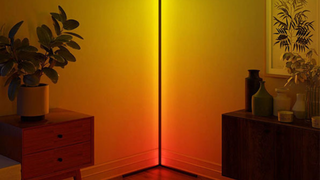 Save 60%
Minimalist LED Corner Floor Lamp
Though the Outlaws are still at sixth overall in the standings, the team has fallen a fair bit and has to worry about other teams like the Gladiators and Boston overtaking them. They're not in dire straits yet, but the Outlaws could use a breather to assess what comes next for the team and how to reclaim that stage one glory.
Down further in the standings is the Dallas Fuel, a team that has had many problems in and out of the game. The Fuel also went 0-2 this week, but in a staggering 0-8 map outcome. Dallas couldn't manage a single map win against Boston and Philadelphia, two admittedly strong but not unstoppable teams. The former only had two wins itself going into week four, same as Dallas.
For Dallas, it goes a little deeper than the meta-game. Sudden roster changes are one thing, but in general, the team doesn't seem to be clicking. The team looks disheartened (except for Mickie) after maps. Reddit user /u/Verethragna97 wrote a great breakdown of a single play that shows how the team's coordination just isn't there compared to other squads in the league.
In a desk segment, Brennon "Bren" Hook and Jonathan "Reinforce" Larsson tried to capture what it is that's going wrong with the Fuel after a map where the Fuel got literally spawn-camped by the Fusion.
"I mean, tell it as it is, right?" said Larsson. "They got spawn-camped for a while, and it's hard to watch honestly. I consider my job pretty easy, but it gets hard when you try to explain Dallas Fuel, what is going wrong. They have a rough road ahead."
Watching a highlight reel of the match, with kill after kill of Fusion, it was tough. "It's so hard to really pinpoint where the issues were," said Hook. "Because it literally feels like when you're at this level, spawn camping is happening and you're being sort-of outclassed in almost every aspect, it's very hard to pinpoint exactly what is wrong or one individual thing to fix. You can't do it, right?"
"That's the thing," replied Larsson. "You can't pinpoint one player who needs to improve. It's the entire team that needs to come together. So I don't think that there's anyone to blame. I don't want to see anyone getting blamed for this, because it's a team issue. They need to work some things out, just let them sort things out."
Whatever the solution might be, it was a tough night in a tough stage for fans of the Lone Star State.
Compete is Deadspin and Kotaku's joint site dedicated to competitive gaming.