Cosplay has always prided itself on its ability to transform fans into their heroes, wherever and whoever they are. In theory, at least. In practice, things haven't always been that perfect, especially when a fan is black.

This piece originally appeared 2/10/16.
The cosplay scene is full of cool people who are committed to making sure everyone involved has a good time, but there's no such thing as an official Cosplay Police Force. Like every other pursuit on Earth, assholes can and do find their way into cosplay communities and discussions, and when they do, they do their damnedest to try and ruin things for anyone caught in their crosshairs.
While the problem of cosplayers being treated as meat is a widespread and well-publicised one, it's not the only obstacle those in the scene face from jerks and bigots. From cosplay's earliest days, black fans have faced constant struggles on multiple fronts, both as cosplayers and as people.

G/O Media may get a commission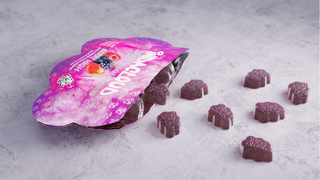 30% off
30% Off Indacloud's Seriously Fun Cannabis Products
That's not to say there aren't prominent black cosplayers. Far from it. Indeed, some of the best cosplayers on the planet are folks like Knightmage and Chaka Cumberbatch. But the success of some doesn't eliminate the struggles of others, nor somehow magically remove bullshit "criticism" of their own cosplay.

In an attempt to raise awareness of some of these issues, and to promote some of the fantastic work found in the community, a number of events and movements have emerged. One is the #29daysofblackcosplay hashtag on Twitter, which was started by Cumberbatch last year and acts as a spotlight and rallying point for amazing photos of amazing cosplayers.

Writing on Black Girl Nerds Chaka says that she hopes, after its initial success in 2015, that 2016's version "will be a rallying call to arms for a group of people who are consistently subjected to derogatory comments and outright racism in response to doing little more than proudly displaying their love for this hobby."
"When we call out racism in this subculture, we are often ridiculed, silenced and told to make a space of our own if we want to see our faces. Challenge accepted. This is how we'll represent ourselves. This is how we'll uplift each other. This is how we will make this hobby open, inclusive and welcoming to everyone."
Another showcase, timed like #29daysofblackcosplay to coincide with Black History Month, is a series of cosplay photo shoots that photographers Kayhettin and Anna Fischer have been working on.
"This project got started when we were putting together a group shoot at Colossalcon", Fischer tells Kotaku. "We were looking at tons of cosplayer applicants. Cosplayers we hadn't worked with before, just this huge cross section of emerging cosplayers. And it sparked a conversation about what we were seeing, what we weren't seeing and how we felt about it."

"What we weren't seeing was black people. And that was disappointing."
So Fischer and Kayhettin decided to do something about it. "We wanted to reach an audience who might not be cosplaying yet, young people, or people who aren't sure if they want to try it, who might be worried that they won't fit in because of their color. And we want to show them that they have a place, that they can be a part of us."
All the images you see in this post, both above and below, are from this shoot.

Black cosplayers, Kayhettin says, are facing two main challenges. The first is that there aren't "enough compelling black characters in the source material." The second comes from the cosplay community at large, which he believes doesn't do enough to "hold a line of defense against racists on the internet trolling black cosplayers for cosplaying as white and Asian characters."
Both are long-running and entrenched issues, but there's hope that progress is being made. Witness the explosion in popularity for one of the cosplayers featured in this project (KayBear) has experienced over the past few months, going from a complete unknown to budding cosplay superstar seemingly overnight. "The fact we found a girl like Kay, a black cosplayer with star power, is huge. There is a broader satisfaction as we watch her climb the ranks of social media stardom, transcending the usual joy we feel when a cosplayer we work with early in their development does well. She and women like her are changing the community, by showing fans and cosplayers alike that there are not just good 'black cosplayers' but there are just 'good cosplayers' who are also black."
"We need more women like those in this feature. Because if we can just keep going, in five years, or ten years, or twenty years - one day being a 'cosfamous' black cosplayer or photographer won't be an issue. We hope this project is a step down the road that brings that future closer."

---
Here are the full credits for these shoots, along with links to check out more of their stuff.
Photographers:
Cosplayers:
And here are the rest of the photos from the shoots: