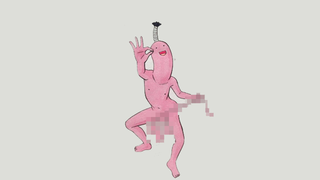 In your life, you've probably seen your share of dick doodles. But I can guarantee you've never seen any quite like this.
Note: Some readers might find this article's content objectionable.
Meet Yuuki Tokuda. The illustrator's work varies. Some drawings are wonderfully realistic. Others are wonderfully strange.
Just so you don't think Tokuda only draws dicks, here are some other illustrations.
Luffy from One Piece.
This Frieza took between four to five hours.
And this drawing of actress Rena Nounen took around forty hours.
Tokuda's doodles or scribbles (落書き or rakugaki) are where you can see some funny dick drawings—but not all the drawings have them.
Here's a doodle of a young woman.
Others show a wicked sense of humor.
"Will you eat a radish?" "I'll eat a radish."
"It seems like a fever or something." "Could be the flu?"
Okay, on to the dick drawings!
"Let me borrow your weenie." "Noooooooooo."
"Ahahahahahahaha"
"Let me play Puzzle & Dragons, too. ... Hey, don't ignore me."
"Eek!"
"You've gotten good." "I know, right?"
"Fuuuuuuuuuuuun!!"
"If I let go, will you get angry?" "I'll get angry."
You can see more drawings (and dicks) on Tokuda's Twitter page in the link below. It's kind of easy to see why the artist has over fifty thousand followers.
徳田有希 [Twitter]
Photos: 能年玲奈ちゃん, フリーザ, ルフィ 落書き, 落書き, 落書き, 落書き, 落書き, 落書き, 落書き, 落書き, 落書き, 落書き
To contact the author of this post, write to bashcraftATkotaku.com or find him on Twitter @Brian_Ashcraft.
Kotaku East is your slice of Asian internet culture, bringing you the latest talking points from Japan, Korea, China and beyond. Tune in every morning from 4am to 8am.