The Sims 4 is getting its first full-blown expansion pack in April, developer EA announced today. Known as "Get To Work," the pack adds new jobs with full-blown workplace locations you can actually visit and play around in. That's pretty darn exciting. Less thrilling is the $40 price tag.
The Sims has long been known for its impressively substantive and ambitious expansion packs, so the stuff in "Get To Work" and its corresponding price may not come as a surprise to seasoned fans. What makes this expansion sound particularly cool is that it promises to address a longstanding quirk in The Sims that's stood out for many fans, myself included: the lack of solid workplace gameplay.
You've always been able to assign Sims to particular careers, much in the same way that you can customize their skills, interests, and physical appearance. But unless a Sim becomes, say, a work-from-home writer, you don't actually get to participate in most of the cool stuff they do on the job. Instead, your Sim just clocks out for certain parts of the day—disappearing from the world's map and not really being available until work ends. This leaves you, the gamer, feeling like an antsy child who's been stuck in daycare for several hours at a time.
I haven't played "Get To Work" yet, so I can't say if it actually will change that often frustrating dynamic. But the developers certainly aim to. The pack adds three new careers: Doctor, Scientist, and Detective. These function similarly to the game's existing careers, only they add new locations to the game's map as well. By "locations," I mean offices. So if you make a doctor Sim, you can travel to the hospital with them and manage them in the workplace the same way you would if they were at home, or at the gym, or anywhere else in The Sims. In other words: you can play with Sims at work. Yay!
G/O Media may get a commission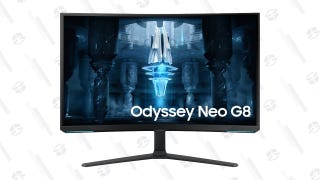 Samsung 32" Odyssey Neo G8 Curved Gaming Monitor
Unfortunately, the "Get To Work" expansion doesn't mean that all your Sims will be getting locations like this. Lyndsay Pearson, creative director on The Sims 4, told me that the game's existing careers will remain unchanged—though the developers haven't ruled out the possibility of adding more playable workplace locations in the future. No solid details on that yet.
Sims also gain a new ability to start their own retail businesses, which can be established as shops in the the world's public lots. Lyndsay Pearson, creative director on The Sims 4, told me these retail businesses can function separately from traditional Sims vocations. So if you feel like it, you could a hardboiled detective Sim who moonlights as an aspiring romance novelist trying to sell his work on the side. Or maybe he sells moody paintings or hand-knit scarves instead, your call.
Oh, also: there are aliens. EA's announcement makes it sound like extraterrestrials will be the big secret in "Get To Work," so we'll probably have to wait and see what players dig up once the thing comes out.
Here's how The Sims 4 developers describe the "Get To Work" expansion in EA's announcement about the thing:
Become A Doctor: You rule the Hospital! Live the thrilling life of an emergency room Doctor and spend your days saving lives. Just make sure to stay focused as you're treating patients, delivering babies, and performing emergency surgery.
Become A Detective: You rule the Police Station! Grab your badge and start solving elaborate mysteries as a Detective. See what secrets you uncover as you investigate crime scenes, interrogate Sims, arrest criminals, and work your way from Cadet to the Chief of Police.
Become A Scientist: You rule the Science Lab! Use your analytical mastermind to create crazy inventions as a Scientist. Collect unique specimens to craft diabolical creations like the Sim Ray and decide whether you'll use your inventions for good or to torment your fellow Sims.
Create Unique Retail Businesses: You rule your business! Create any type of retail business you desire including bakeries, clothing boutiques, art galleries, bookstores, and many more. Customize every facet of your business with Build Mode and watch the simoleons roll in! Select what items to sell, manage your employees as you see fit, and schmooze your customers to close the sale.
New Career Venues: Spend your days saving lives at the Hospital, booking criminals at the Police Station, searching for alien life at the Science Lab, or chatting up customers at one of the many retail businesses you've created!
Learn New Skills: Learn new skills to help your Sims create even more unique objects to enjoy in The Sims 4. Capture the picture-perfect photo or bake and decorate a delicious treat with the new Photography and Baking skills. Display your creations at home or sell them to earn some extra simoleons.
Discover Aliens: Aliens have landed! Uncover which Sims are truly out of this world and discover the mysterious Alien dimension!
As I said a moment ago, I'm very excited by the sounds of "Get To Work" given that it's designed to scratch an itch I and many other Sims fans have been feeling for a while now. As for the question of value? $40 is a steep price for an expansion to a base game that costs $60 to begin with. At face value, "Get To Work" sounds like a more substantive addition than the outdoorsy "Game Pack" that was recently released for The Sims 4. But it really just comes down to how the expansion pack actually plays out.
I'll have more to say about "Get To Work" closer to release and once I get my hands on the thing. It comes out in April for $39.99.
To contact the author of this post, write to yannick.lejacq@kotaku.com or find him on Twitter at @YannickLeJacq.