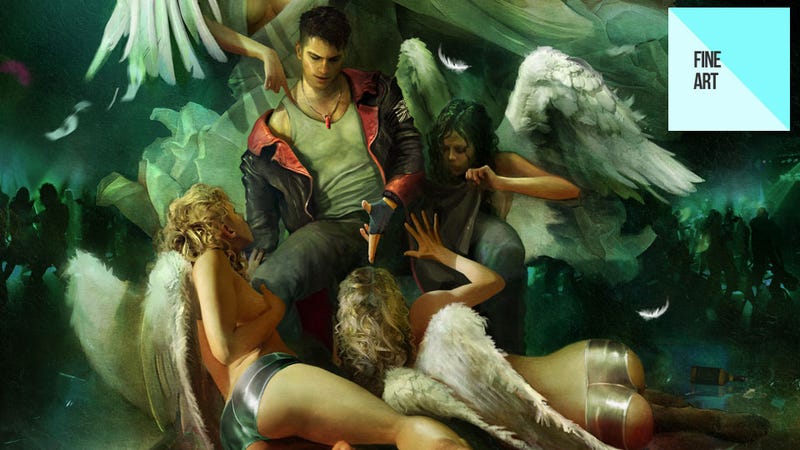 Fine Art
[Fine Art](https://kotaku.com/c/fine-art) is a celebration of the work of video game artists, showcasing the best of both their professional and personal portfolios. If you're in the business and have some art you'd like to share, [get in touch!](mailto:plunkett@kotaku.com)
From the first time I saw Heavenly Sword concept art in an old copy of Edge, right through to their work today, I've been a big, big fan of the art team over at Ninja Theory. So it's a pleasure today to present the work of the studio's visual art director, Alessandro Taini.
Born in Italy but now residing in the UK, Taini was a senior concept artist on PS3 launch title Heavenly Sword. He was then visual art director for 2010's Enslaved, and is fulfilling the same role on Ninja Theory's upcoming Devil May Cry reboot for Capcom.
Being Italian I'm not sure if this is intentional or not, but when you strip back the colours and the Photoshop work, his character pieces have a very Massimiliano Frezzato (Keepers of the Maser) look to them, which you can see in the more basic sketches in the gallery.
Above you'll find a selection of Taini's video game works, though as DMC is still in development most of them are from Ninja Theory's last two projects.
Below? His personal site, with plenty more great pieces on show.
To see the larger pics in all their glory (or so you can save them as wallpaper), right-click on the "expand" icon on the main image above and select "open in new tab".
Fine Art is a celebration of the work of video game artists. If you're in the business and have some concept, environment or character art you'd like to share, drop us a line!
TALEXI'S WORLD [Blog]
---
You can contact Luke Plunkett, the author of this post, at plunkett@kotaku.com. You can also find him on Twitter, Facebook, and lurking around our #tips page.