Evo 2018 played host to multiple tournaments over its three-day run for established games like Street Fighter V and Dragon Ball FighterZ as well as the as-yet-unreleased Soulcalibur VI, which is still in development and set to come out on October 19. Marie-Laure "Kayane" Norindr, a veteran competitor from France known for, among other things, winning even with her eyes closed, placed fifth in the Soulcalibur VI tournament. Afterward, she opened up to Kotaku not only about the game's competitive future but also her own.

Kayane's career stretches back almost two decades to when she participated in her first tournament (a Dead or Alive 2 competition in her home country) at just 10 years old. She finished in second place and has been making her mark on competition ever since, most notably in Soulcalibur. Now, at 27 years old, she is one of the most accomplished fighting game players of all time, with victories at community tournaments like Evo and Community Effort Orlando as well as Major League Gaming and World Game Cup.
The 192 players who signed up to compete in Evo 2018's Soulcalibur VI tournament were whittled down to a group of eight finalists over the course of a day. Kayane, who had been undefeated up to that point, lost two close matches during the finals on the main stage to Sean "Xephukai" Paquette and Michael "Party Wolf" Stabile. She told Kotaku she considers the latter player to be the best in the United States at the moment. As I watched from the crowd, I felt amazed at the skill level the participants, especially since the game won't be officially released until the fall. Kayane and the other competitors had already learned several of the game's most useful tactics, and it was a joy to watch them punish unsafe moves with impressive combos and force their opponents out of bounds at a moment's notice.
"I'm very happy to see the return of my favorite fighting game," Kayane told Kotaku via email after the event. "I stopped competing seriously in 2012 when I was done with all the Soulcalibur V tournaments during my [three-month] stay in the United States. People lost interest in the game more and more, and a lot of players quit because they didn't like Soulcalibur V that much."
G/O Media may get a commission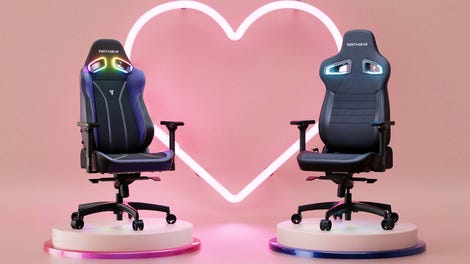 Up to $150 off
Vertagear Gaming Chairs
Soulcalibur V, which came out in early 2012, was a drastic departure for the weapon-based fighting game. The highly-tactical franchise used to be focused on lightning-fast combat, but the fifth installment made changes to movement and added a super meter, which slowed battles down considerably. Longtime players were also put off by the replacement of classic characters in favor of newcomers.

Soulcalibur VI still has the meter management and defensive options featured in the previous installment, but it appears to combine these new ideas with a greater emphasis on the series' ubiquitous 8-Way Run system—which, unlike fellow Bandai Namco fighter Tekken, allows players to move in any direction without having to use special inputs. The game also reintroduces fan favorite cast members like Sophitia, Kilik, Taki, and Kayane's personal favorite Xianghua.
Kayane said she appreciates these changes, and added that the speed feels closer to 2002's Soulcalibur II than Soulcalibur V. The addition of mechanics like Soul Charge—a new technique that spends meter to power up a player's chosen character in different ways—expands the whole roster's fighting style, Kayane noted. The meter game also feels much more compelling here, since it leads to additional resource-dependent strategies. She expects Soulcalibur VI to act as a unifying release, bringing together veterans and newcomers in a game they can all enjoy.
These days, however, fighting games need more than solid gameplay to entice competitors. The genre's expanded presence in the video game world and the fact that many game companies now tend to launch their titles with official competitive tours means that developers have a lot more to consider when creating a new fighting game, such as its accessibility (for players and viewers alike) and post-release support to keep competition fresh. Kayane hopes Soulcalibur VI sees the same attention as Tekken 7 and Dragon Ball FighterZ, both of which have received considerable backing from Bandai Namco Entertainment.
"We will definitely need support from Bandai Namco or tournament organizations like ELEAGUE, ESL, etc. that already organize tournaments for Street Fighter and Tekken," Kayane said. "Tekken 7 has a world tour, as does Dragon Ball FighterZ. I believe that if Bandai Namco is thinking to have a Soulcalibur VI world tour, it could become a Bandai Namco world tour with their three main fighting games, and it would be amazing."
Kayane believes that Soulcalibur and its competitive community deserve a comeback. "For us, it would be the best; I can see all the benefits of having a world tour with [those games]. I believe Soulcalibur VI is also very fun to watch, with various characters with their own styles and backgrounds, so if we can [receive] the benefit of a technical production of the same quality for our tournaments, it will attract lots of players and viewers. Fingers crossed!"
Since stepping away from Soulcalibur V competition in 2012, Kayane graduated from business school and began working as a television host at Game One, a video game channel in France. Her time as a competitive player gave her an edge as a host, since she could drop plenty of gaming knowledge, and the experience also allowed her to hone her public speaking skills. In recent years, Kayane's fame has expanded outward from the insular fighting game community to the larger world of video games, leading to sponsorships from both Red Bull and Orange, a French telecommunications company. (UPDATE 2:50 pm ET: Kayane's current sponsors are Orange and Nacon.) With Soulcalibur's return, however, she says she's more than ready to step back into the competitive spotlight.
"When Soulcalibur VI was announced, there was no hesitation," Kayane explained. "I told my sponsors I'll [be competing] again and they all understood. Even if it means I have to sacrifice business opportunities, money, and personal time. My mind always says to me, 'I'm tired of watching tournament streams with players I admire or want to play with from home. What am I doing at home watching them? I should be there. I want to compete too.' I started to feel that when I watched the United States' Soulcalibur VI exhibition tournaments, whereas nothing was happening in Europe."
In other words, Kayane's soul still burns. Despite the numerous media obligations on her agenda at Evo 2018, she had clearly prepared for the Soulcalibur VI side tournament. The fifth-place finish might not have been what she envisioned, but earning an Evo medal was an important first step in her return to high-level competition. And while she hopes to see official tournament support from Bandai Namco, her old-school ambitions have given her the drive her to return to Soulcalibur VI competition in whatever form it takes.

"Even if there is no Soulcalibur VI world tour, it won't prevent me from competing again," Kayane added. "Fighting game events are where I really feel myself, where I feel like I'm home, when I can really feel alive by watching amazing matches and feel so many different emotions just by playing an opponent in tournament. There, I feel that I'm so right to like fighting games that much, and I'm with the only people that understand and like it as much as me. It's really important to me."

Ian Walker loves fighting games and writing about them. You can find him on Twitter at @iantothemax.