Since 2016, hero shooter Paladins has been deflecting accusations that devs copied Blizzard's massively successful hero shooter Overwatch. Yesterday, in a turning-of-the-tables tweet, Paladins' president Stewart Chisam side-eyed Overwatch's newest hero Brigitte for her similarities to the Paladins hero Ash.
Paladins developer Hi-Rez Studios has denied cloning Overwatch since Paladins went into open beta in 2016. It's more MOBA-like than Overwatch, an objective-based first-person shooter. Also, Paladins heroes' concept art exists from way before the public knew about Overwatch. Hi-Rez's COO explained back in 2016 that "we created almost all the Paladins classes and abilities using Global Agenda and Smite as our template." But that didn't stop fans and huge YouTube personalities like Dunkey from drawing connections between the two games. There's the Paladins hero who hooks enemies with a chain and pulls them in (like Overwatch's Roadhog). And the Paladins hero who shoots rockets from the air (like Overwatch's Pharah). And the Paladins hero who can build turrets and shoot molten lava from a gun (like Overwatch's Torbjorn). Although Paladins was in development before Overwatch, the similarities are glaring.
Brigitte is the latest talking point in the Overwatch vs. Paladins debate. Released yesterday on Overwatch's test servers, Brigitte is a tanky support hero. Her moves include "barrier shield," "shield bash" and "rally," which lets her heal nearby teammates. In full-body armor, she defends her teammates from incoming attacks. Paladins' Ash, who was released mid-2017, also wears full-body armor and has a deployable shield something Chisam pointed out in a snarky tweet last night:
Canonically, Overwatch's shield-tank hero Reinhardt helped raise Brigitte—and frankly, Brigitte seems to resemble him a lot. But since we haven't played both heroes, it's hard to say how much they resemble each other in practice.
Reached for comment, Chisam told Kotaku that the tweet was "meant as a light-hearted joke — as well as a bit of an homage to tons of 'Overwatch Clone' comments Paladins received when it first came to market." He added:
"The tweet is mainly a comment on how absurd all of these types of comparisons tend to be. I think it would be nearly impossible at this point for any game of this type to release a new champion that did not have obvious comparison points to other characters in other games in some form or fashion. At the end of the day, in this genre, we all stand on the shoulders of Team Fortress 2 anyways."
G/O Media may get a commission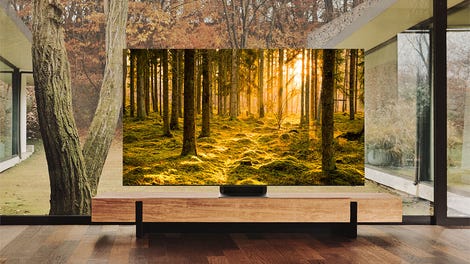 Up to 40% off
Samsung Smart TVs
We reached out to Blizzard for comment but did not hear back by press time.
The fact that games all take inspiration from each other is a persuasive argument. That said, Paladins itself announced a battle royale mode called Battlegrounds in January—shamelessly reminiscent of battle royale game PlayerUnknown's Battlegrounds. Players drop down on an island, collect items and attempt to be the last man standing while the map becomes smaller and smaller (Paladins' mode also boasts horses and player classes). It's a model that the blockbuster PlayerUnknown Battlegrounds didn't itself invent, and it's a model that third-person shooter Fortnite co-opted with immense success last year. Keeping the Battlegrounds name, however, felt like a bold move to lots of players. Although game developers often draw water from the same wells, it's optics that end up affecting public opinion.
Correction—1:00 p.m.: A previous version of this story stated that Paladins' Ash can heal teammates hear her, which is not the case. We have made the correction and regret the error.