Usually Halo multiplayer announcer Jeff Steitzer says things like "Double Kill", "Triple Kill", and "Killing Spree." But this time, at the request of folks on celebrity video request platform Cameo, he's saying much more—and winning the internet's heart in the process.
Twitter user Tanis, for example, hired Steitzer for a Cameo saying "Trans rights." The Halo announcer went well beyond that request.
"I have to say, I've been around for a while," said Steitzer, who's turning 70 this November. "And I've seen an awful lot. And the struggle of trans people reminds me so much of all the other struggles I've been a witness to over the many years that I have been alive."
Steitzer recounted how over his lifetime, he's seen a wide variety of marginalized people fight for their rights. "And now I see trans folks like yourself, who basically want nothing more than to enjoy the equality that everybody else aspires to. And for which, I for one, think you should have."
"So, I am happy to say, 'Trans Rights.'"
And, of course, Steitzer did it in his Halo announcer voice! Steitzer concludes with hopeful remarks for trans people and the society at large. What a stand-up guy.
"I was super surprised about the cameo," Tanis told Kotaku, adding that she was expecting a standard, basic reply. But then, she was blown away by the voice actor's honesty and sincerity with regards to his own life experience and opinions.
G/O Media may get a commission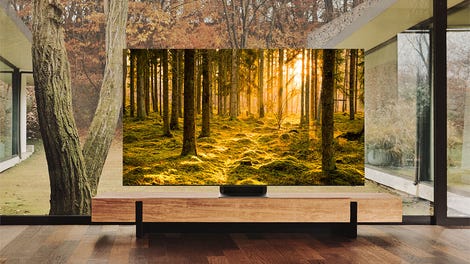 Up to 40% off
Samsung Smart TVs
"I reacted to the video with tears, honestly," said Tanis. "It feels like he went above and beyond, being his genuine self, and showing that he cares about fighting against hate."
The whole clip, which runs about two minutes, went viral on Twitter, racking up over 52,000 likes.
A huge fan of Steitzer's voice acting, Tanis says he's been a source of inspiration for her own voice training with his classic, yet powerful Halo multiplayer work. "It's always made me want to try out experimenting with different voices," Tanis told Kotaku.
"He's even cooler than I thought," wrote Tanis on Twitter. He really is. The trans right clip follows after other fans commissioned Steitzer to lend his iconic voice for lines heard during Destiny 2 multiplayer matches matches. Unsurprisingly, the combo of Steitzer and Bungie continues to work extremely well. Sorry, Shaxx.
You can check out Steitzer's Cameo page right here.

Update August 6, 2021 - 11AM: Comments from Tanis added to original story.