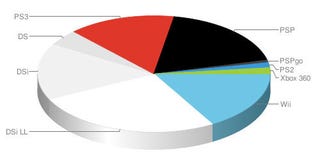 Nintendo's price drop on the bigger and now brighter version of its Nintendo DSi is going over pretty well in Japan, with the handheld tripling sales after the change.
The Nintendo DSi LL got three new colors this week—blue, green and yellow—along with a new price, 18,000 yen, down from 20,000. That puts the DSi LL at the top of the charts, snatching it easily away from the PSP. The regular sized Nintendo DSi and the DS Lite also got a price adjustment this week, likely to blame for their better showing and for kicking the PlayStation 3 down to fifth place spot.
Wii sales held strong on sales of Super Mario Galaxy 2 while everything else moved around, up and down, just a bit.
Nintendo DSi LL - 30,183
PSP - 20,929
Wii - 19,045
Nintendo DSi - 18,214
PS3 - 17,175
Nintendo DS Lite - 5,126
Xbox 360 - 2,060
PlayStation 2 - 1,568
PSPgo - 837