This past weekend saw the release of the third part of Ghost in the Shell Arise in theaters across Japan. And while it is still full of all the cyberpunk police action you've come to expect from the franchise, Ghost Tears also delves into what romance is like in a cybernetic society.
Good – Interesting Passing Insights into a Cybernetic Society
One of the most interesting parts of Ghost Tears is how it further fleshes out the world of Ghost in the Shell. The background is full of little details that are never even mentioned in conversation but tell a story all their own. At first glance, one of the film's new characters, Thied, appears to be wearing glasses—until you start to think about it. Why in a world filled with cybernetics would anyone wear glasses? In fact on closer inspection, these appear to be glasses-like jewelry—something that would make sense in a world of 20/20 vision for everyone but where glasses are a long-time part of the culture.
As much of the plot centers on the Major's love life, we get to see more of the implications of a cybernetic society. At one point, the Major and her boyfriend attend a wedding. On the surface, it seems perfectly normal: a young couple and all their friends. But in a world where your body can look like anything you want it to be, all is not what it seems. Everyone in attendance is, like the Major, a full-body cyborg. Moreover, they are not necessarily young—the average age of the wedding is 70 years of age. Things like age and outward appearance matter little in a cyborg society.
G/O Media may get a commission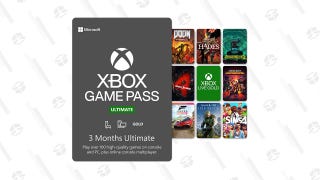 Save 11%
Xbox Game Pass Ultimate: 3-Month Membership
Another cool note about the wedding is the food. Unlike normal food (which matters little to a full-body cyborg with no stomach), the wedding food is specifically designed to excite the brain's taste center in cyborgs—making eating a pleasurable experience again.
Then there is the Major's sex life. For her, it is lying in bed with the man she loves connected cybernetically. At one point we see her swimming with him naked in an endless sea, neither needing to breathe. Another time we see them jacking in to each other's bodily sensations—literally feeling what the other person feels.
All this makes for great world building and a fun thought experiment about what a truly cybernetic society would be like.
Good – Setting Up the Series Climax
When not focused on the Major, most of the plot of Ghost Tears works to set up the final chapter of Arise: Ghost Stands Alone. It does this by following up on the characters of the first episode of Arise—namely the Major's old friend and C.O. and her new unit—and showing how their plans are progressing. Better still, the unit's plans tie directly in with the mysterious terrorist bombing plot of this episode—revealing just enough to keep you interested in the overall plot of the four films. There is even a new character introduced in Ghost Tears: Emma, a young cybernetic girl who claims to be a match in combat strength for the Major.
Mixed – A New Side to the Major
In past works in the franchise, we have seen the Major in romantic relationships. However, these all seem to be little more than flings—sexual escapades at best. In Ghost Tears, we see the Major in a serious, long-term relationship for the first time. Akira is not only her lover, but her mechanic as well—which makes sense.
For the Major, a full-body cyborg who has changed bodies constantly since she was a child, her body is just a tool—an important tool to be sure and one that must be maintained, but a tool nonetheless. Akira, however, treats her mechanical body lovingly as a part of her—not as just a shell. And on top of that, he is completely understanding of the idea that a cop is always on duty and does not chide her when she has to run off suddenly. Thus, their relationship makes her feel more whole and centered as a person.
On that level, their relationship is quite heartfelt and interesting. However, what seems odd about it is the Major's role in the relationship—i.e., that she is not the dominate one of the pair. In other iterations of the franchise, the Major is very much an alpha male in personality both professionally and privately. In most relationships that we have seen, her romantic partner is female (or at least has a female-looking cybernetic body.) So it's somewhat odd to see her fall into the traditional, more subservient woman's role in this film.
Bad – Every Single Time
While blessedly free of a Batou/Major fight, Ghost Tears is not without its overused Ghost in the Shell clichés. Once again, numerous people get ghost hacked (something that the original movie and manga treated as nearly impossible) and the Major finds her robotic body acting in an odd way. And just like in the last two parts of the series, the Major suffers catastrophic damage to some of her limbs. At this point, these reused plot devices have lost any and all impact they once had. What were once interesting concepts and iconic images have become so commonplace they are almost self-parody.
Final Thoughts
All in all, I like what Ghost Tears was trying to do—i.e., explore a long-term romance in a cybernetic society—but I'm not sure I like how they did it. Long-time fans will likely view the Major's relationship as a betrayal of the beloved character regardless of the concepts said relationship explores. Still, the film presents a decent cyberpunk mystery and does a lot of good work to set up the series' final act. So if you have enjoyed Arise so far and like cyberpunk crime stories, there is still a lot to enjoy in Ghost Tears. However, what will make or break it for you is how you feel about the Major and how she acts in her relationship.
Ghost in the Shell Arise: Border: 3 Ghost Tears was released in Japanese theaters on June 28, 2014. It has been licensed by Funimation and is scheduled to be released in the West, the date yet to be determined.
Kotaku East is your slice of Asian internet culture, bringing you the latest talking points from Japan, Korea, China and beyond. Tune in every morning from 4am to 8am.
To contact the author of this post, write to BiggestinJapan@gmail.com or find him on Twitter @BiggestinJapan.