MANHATTAN, N.Y.—Despite the drumbeat insisting that Adam Silver is the hip young teen of sports commissioners, he looks the part of a curious Old. His inquiring wide eyes, dark wire-framed glasses, and ready avuncular smile: Silver looks well-suited to hunch inquiringly over kids' shoulders and try to make sense of the mess of colors on a bright screen. For the NBA commissioner, this image is not all that far off from recent reality.

"Roughly three years ago, right here at Madison Square Garden, one August evening, I attended a League of Legends competition, and that was incredibly eye-opening for me to see the enthusiasm from a packed house of gamers cheering for things up on a screen that I couldn't understand," said Silver of his esports awakening. "Which is one reason why I thought, let's work with the NBA format because at least it all makes sense to me. Even if I'm not a great gamer myself, at least I can follow what's on the screen."
Silver firmly corrected a reporter who suggested that the commissioner might not know much about the video game NBA 2K: "I said that I'm not good at it, not that I don't know anything about it," and described himself as a "big fan" of the iPhone version. He then recalled undergrad hours spent dropping quarters to play Asteroids, Pong, Pac-Man. "I never scored high enough where I got my initials sort of in the top category."
Now, no longer a competitor, just an overseer, he's at Madison Square Garden to stamp the imprimatur of NBA on a new esports league, which he embraces as "the fourth league in our family," to go along with the NBA, WNBA, and D-League.
He was joined at the press conference by Strauss Zelnick, chairman of TakeTwo, which makes the game. "There are 200 million people around the world who consider themselves avid viewers of competitive gaming, and another 200 million people who are viewers occasionally, and this is just the very beginning," he said. "And when I say it's the very beginning, look, everyone knows competitive gaming is in its nascent stages, and the projections about where it's going were incredibly rosy and optimistic."

G/O Media may get a commission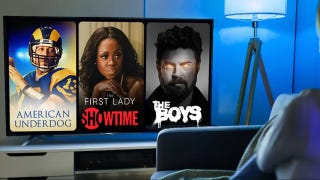 UNDER $1
99¢ Prime Video Channels
The esports industry revels in tossing these huge figures around, albeit with qualifiers; later, Zelnick referred to esports having 400 million "pre-sold" viewers, with 200 million of those "avidly pre-sold." Lots of people watch people play video games. Some of them even enjoy it.
The league is popular; the game is popular; professionals playing the game backed by the league will end up being popular. At least, that's how the league's and game's executives see it. On draft day, the league's popularity was treated more as a slow-burn inevitability than an open question.
"I don't think there's any more of a short-term pressure to show returns," said Silver, when a reporter suggested parallels to the D-League and WNBA, which are still struggling to become independently viable. "But we view this in the same way as those other leagues as something that we're going to develop over a very long time, and we're building this as a league that's going to be around forever." Those returns may take time to come in. The draft, a small spectacle unto itself, was broadcast on NBA TV and also streamed on the popular site Twitch. Right before the first pick, presumably the moment of greatest suspense, some 13,000 people tuned in to watch—a blip by Twitch standards. At time of writing, fewer than 8,000 people currently follow the official channel for the 2K League.
Silver sounds convinced that the audience will grow once the product exists in its entirety. The 2K regular season begins in March and extends to a week-long postseason in late August. The NBA season is nearly twice as long, but fans of gaming might have passion that runs many times as deep: "The amount of traffic that was based on not watching even live video games but video gamers who were consuming hundreds of millions of hours of content on YouTube, was fascinating to us," Silver said. In short: even the NBA's most deranged fans aren't as into our product as gamers are into theirs. Let's get a cut of that.
The commissioner insisted on two pathways that would increasing the audiences of these two leagues. The first was from casual gamer to vicarious enjoyer of pro gaming: "I think it does analogize to we know that the greatest proclivity for being a fan of the NBA is based on the fact that you play basketball, and I think for anybody who plays basketball at any level, you can relate to our players, even if you can't possibly dream of ever doing what they're doing. It has a unique meaning to you, I think no different that a weekend golfer, who then watches Jordan Spieth and says, wow, look what he's doing."
But he seemed even more charmed by an anecdote he heard from NBC correspondent Chuck Todd, whose gamer son mastered the whole Wizards roster without watching a single game on TV, much to Todd's confusion. In the end both father and son became season ticket holders for the flesh-and-blood Washington Wizards, a dream outcome for the NBA. In truth, that pathway—from NBA 2K gamer to NBA basketball fan—does not really involve watching professionals play 2K.
---
The arc of the 2K pro barely resembles that of an NBA prospect, from what I gathered talking to players and their loved ones. Instead of getting identified and groomed as prodigies from a young age, the best 2K players in the world describe a battle to convince their families and partners that this was a viable life path that ended with health insurance, a 401k, and a job in the big city, with housing paid for by the NBA. For them, it was a pastime first, then an obsession, then a side hustle, then something you sink hours into possibly to the detriment of your relationships and health and livelihood—until suddenly, abruptly, on this day, it actually becomes your livelihood. Every player in this draft class will sign a six-month contract, with first-round draft picks earning $35,000 and all other players earning $32,000 base salary, with greater potential reward coming from tournament winnings. Three in-season tournaments boast low-six-figure prize pools, and the playoffs promise $300,000 to the league champion.

One player's girlfriend tells me that her live-in small forward plays 12 to 13 hours a day, probably more, and spends a not-insignificant portion of that time screaming. Another player, oFAB, or Albano Thomarelli said, immediately after being selected with the overall pick, "Just a couple months ago, my parents told me you gotta get a job, I told them give me until March." Mootyy, government name Mitchell Franklin, proclaimed "Mama we made it" after getting selected fourth overall by Sacramento; Mama, it was easy enough to deduce, was the blonde lady in a technicolor blouse, squealing with pride and fanning herself.
The sacrifices made by these players are different from those of their NBA analogues, but very, very real. Thomarelli is asked whether the challenge of 2K is more mental or physical, and said both, before elaborating: "I used to actually be in shape and I gained some weight just non-stop playing, so it's both." He now says he's been logging 16 hours a day, a figure that most of the elite players seem to be approaching. Juan Gonzalez, a.k.a. Hotshot, a Miami native, got drafted by the Heat affiliate, and at once leaned right into the basest gamer stereotype: "I'm so excited ... I get to stay home," to appreciative laughter.
So as of now, it's working for all these gamers. It's working, especially, for Artreyo Boyd, the round-faced, dreadlocked, amiable superstar known as Dimez for his playmaking, and the consensus best player in the room. The point guard receives a personal phone call from Mavericks' owner Mark Cuban, sending the knowing corners of the room aflutter. Cuban informs him he'll be selected by the Mavs Gaming Club. Before Silver emerges to announce to officially announce the pick, it's spoiled by another interloper from the NBA world: its most prolific newsbreaker has deigned to break some esports news. A new league has been christened by Wojbomb.
---
Over the course of this Wednesday afternoon, all 102 players in this pool of elite video game players will be offered a job one of the 17 teams, each of which is affiliated with an NBA team. In a snake-style draft, the clubs flesh out their six-man rosters—five traditional positions plus a bench guy—and there are indeed all the trappings of a typical draft, with a draft clock and a desk offering live commentary; WNBA star Swin Cash offers some context from the meat-sports world, while Dirk Ruiz served up esoterica on the players' combine stats and reputations in the gaming world. Then, after each pick, a stoic Caucasian man in a fine gray suit emerges to announce that "Mama Im Dat Man," "iiNsaniTTy", or "OneWildWalnut" has been selected, and the elated player trots up to receive a brand-new flatbrim hat and make literal a pre-teen fantasy: being paid to game.

With a mic thrust in their faces, the draftees' voices reliably quaver; they speak of "blessings," "dreams," they're "shocked" and "juiced." They're leaving jobs at TD Ameritrade and the TSA and ditching college scholarships; they're moving from rural farmland to South Beach. Cramming onto stage for a photo, they're a jittery and keyed-up bunch, looking like an NBA draft class with a much, much lower center of gravity. Maybe a little more modestly dressed, but not without their own flourishes. The boys arrive mostly in suits and at the the very least button-downs, with the exception of one black-and-red custom sweatsuit. There's at least one tuxedo, a healthy spread of Jordans, some white Air Forces, a lone pair of red sequined slippers, and a smattering of sunglasses worn in dim indoors.

And they were all men. Notably, none of the 102 players were women, something that has now happened at the last two launches of major American esports leagues. The 102 draftees were culled from 250 finalists, which in turn came from a "combine" pool of 72,000. That group of 250 included one woman, Wendi Fleming. ESPN reported on Fleming's frustrations, and Fleming elaborated on the ugly reality to LaToya Peterson:
"During the combine, I was called the B-word, like, 'Oh, we got a B on our team,' and that doesn't help," Fleming said. "Going into the game that takes away from our unity as a team. But we ended up winning the game, and at the end that guy was like, 'I love you.' But at the beginning I was a B. [The 2K community is] not as welcoming as it could be. It could be better for sure."
When the Overwatch League launched with its own curious lack of women, one GM publicly said, "You have to go through all these hurdles, like if you pick up a player, is the press gonna call it a PR stunt, or is it because she was the best?" That's a low bar, and Silver and the NBA are clearing that. The commissioner was clearly disturbed by the lack of gender diversity at the combine, and was eager to connect this outcome to endemic issues in gaming:
I'll tell you one thing just to put it on the table that's been a disappointment for all of us so far is that there are no women in the initial draft pool, and just to make it clear, and whittling down from the 72,000, it's by avatars in essence, it's blind. And so there are—I'm not concerned that there was something wrong with the process necessarily. What I'm concerned about, and this is a much larger issue in the gaming community that Strauss and Brendan and I have talked a lot about, is that something is going on in the gaming community that either is not attracting women or is repelling women from wanting to be part of it.
Oris Stuart, the NBA's chief diversity and inclusion officer, has been tasked with tackling this situation. In a phone conversation, he expressed surprise at the lack of women in the 2K League draft pool, and explained what steps have been taken to address this outcome.
"We have already been in the process of discovery in terms of what headwinds, what barriers may exist that are keeping or did keep female gamers from getting to that final pool at the draft. And we're speaking and have done our research with gamers themselves, holding focus groups, and ultimately identifying what's getting in the way. Once we draw our conclusions, we're prepared to do whatever's necessary, including training women or girls who are elite players or potentially elite players, to make sure they can be successful in future efforts," Stuart told me.
Aside from conducting focus groups, the league is in touch with industry advocates such as Girls in Gaming and the Entertainment Software Association, and academic institutions that study the problems faced by women in gaming, an NBA spokesperson told me. Silver's of course correct that misogyny in gaming is an issue much broader than any one esports league, and to his credit, his staff appears much more poised and proactive in addressing this issue than any other league would be.

---
For the 102 men who did survive the winnowing down from 72,000 qualifiers, the process was sometimes painful and sloppy. Even in the flush of getting their dream jobs, players were honest about their frustrations with the combine process, where stars were meant to showcase their skills and distinguish themselves from the unwashed masses. Some said there were bureaucratic errors in the registration process; others claimed that players, including top ones, were pulling the power cord before losing games so as not to blemish their pristine averages before the league cracked down on this practice. Players told me about chaos-sowing teammates who had no intent of making the league themselves but were more fixated on undermining star players. In at least one way, stardom posed problems identical to those of actual basketball: the players with name recognition were immediately targeted with double- and triple-teams.

In all, the players had two broad complaints. The first was that a tiered structure meant that many players were grossly mismatched with the quality of competition, which in turn meant that a lot of the games provided useless information to the teams who were trying to discern talent in a mass of 72,000 qualifiers.
"No combine unless they bring tiers. You play to a point where you're doing this and that, let's move you up. Where you have to play with the same people who probably won't even qualify, it can hurt your game," said Johnathon Fields, or Fresh Prince JT, a point guard selected by Wizards District Gaming in the first round.
The second was shockingly simple: there were no uniform microphone requirements, which infuriated nearly every single player I spoke with. Communication and chemistry are as central to this version of basketball as any other.
"I played with a bunch of point guards that didn't have mics and they asked me to bring it up, and I was playing as a pure sharp. It took one little dribble for someone to bump me and I'd lose the ball, so, I think you definitely have to have a mic if you play in the combine," said Antonio Newman, or Newdini, a shooting guard taken by 76ers Gaming Club in the first round.
---
The players are, to a one, fresh-faced and smiley and engaging to talk to; everyone in this room has been vetted by live interview. Adam Silver says the league will "develop them as unique personalities with their own following," and on that count he should be believed. The NBA brands and markets its athletes much more successfully and enthusiastically than its peer leagues, where faces are obscured by helmets, individuality is swallowed in deference to The Team, or both.

Silver appears to believe strongly that fans will migrate between the NBA and NBA 2K leagues, and that the pathway works in both directions. The game as marketing for the NBA seems like a not-bad plan (think of Chuck Todd's gamer son); the NBA as marketing for the game, sure; either being marketing for the 2K League sounds a little more suspect.
As someone who is as sympathetic as possible a member of that third group—an avid NBA fan who owns a copy of this very game—it's very, very difficult to envision spending my free time watching this game played, even at an inconceivably high level. After the draft I do as at least a dozen people suggested and watch some footage of the top-overall pick; some of the glitchier-looking crosscourt passes catch my eye, but mostly the reel helps me float off to sleep.
The athletes in this league will be playing a very different game than the one I play or the one I watch, in any case. At the league's outset, it promised a hotbed of experimentation; in November, the GM of the Grizzlies' 2K team told Compete that "Maybe we can do things that NBA teams haven't been able to do. Maybe we can play five point guards at the same time. Remember the Kings were talking about playing four-on-five at one point?"
That is emphatically not what will happen here. The NBA 2K League operates under special constraints. Unlike the average gamer's experience of 2K—playing as an entire team—each of these athletes will each compete as a single player. They are not free to design these players to their own favorite specifications. Instead they'll pick from set of 25 archetypes, five for each of the five traditional positions in basketball, each with a specific blend of strengths that the league has prescribed.
A quick survey of list makes you wonder if it emerged from the butt of a neural network that'd been fed transcripts of NBA color commentary. Look at a label like "Slashing Rim Protector" or "Slashing Rebounder" long enough and your vision may begin to blur, your brain may falter as it struggles to conjure up a basketball-playing human being that could be described in these terms. (The full list of archetypes is here.) I asked an informed bystander: do people actually use these archetypes? Where did they come from? Are you a slashing rim protector?
"Nobody's gonna use a slashing rim protector," I was informed by a man in the audience who describes himself as an avid player and a coach of pre-existing 2K team that he is not at liberty to disclose, though he gets awfully fired up during the selections of players who previously competed for the GFG pro-amateur team.
In terms of playing style in the 2K league, the product may not closely resemble the NBA analogue, either. Many of the drafted players tell me not to expect the shooting-heavy, pace-and-space, five-out style of play now prevalent in the NBA.
"I think it's more really paint-dominant. Maybe not as many post moves and stuff like that, but more of just trying to get by your player, whether it be from the corner or whatever, and go to the rack and get a dunk off. Or it might just be two centers just being dogs down low, trying to see who can outdo each other," says Alexander Bernstein, or Steez, a small forward selected in the third round by the 76ers, and one of the few athletes with the mien of a t-sports jock. (It turns out that Steez was an actual Division II football player at Northern State. His friend David Parker, who'd flown out to support him at the draft, told me that he'd suggested 2K to his pal to alleviate South Dakota boredom, and watched in awe as Steez rapidly ascended to pro levels. "Everything he touches turns to gold," said Parker in a tone of loving resentment.)
In terms of team-by-team strategy, players were understandably unsure how their gaggle of brand-new teammates would choose to approach the game. "We're gonna run that pick and roll, and we're going to get glitchy with it, man," suggested Austin Painter, or Shump, a power forward for the Wizards.

That's about as technical as it got, in my experience. Mostly the players channeled tropes about leadership and chemistry and winning culture. "I'm always trying to get better. Practice makes perfect—that's BS," said Fresh Prince, the Wizards floor general, slapping fist against palm. Expecting much more granular and gritty jargon, I was startled by how faithfully these easy platitudes carried over from the world of traditional sports. It wasn't the only surprise in that respect. One player from Germany, who was not present at the draft, was described by the live commentators as a "European talent" who has yet to be tested by the best North American athletes, evoking a geographical chasm that I assumed did not exist in digital competition. The takeaway was clear. Blessedly, this will still be a league where Knicks fans are free to flip their shit after their team drafts a tall and unknown Euro prospect.
Compete is Deadspin and Kotaku's joint site dedicated to competitive gaming.