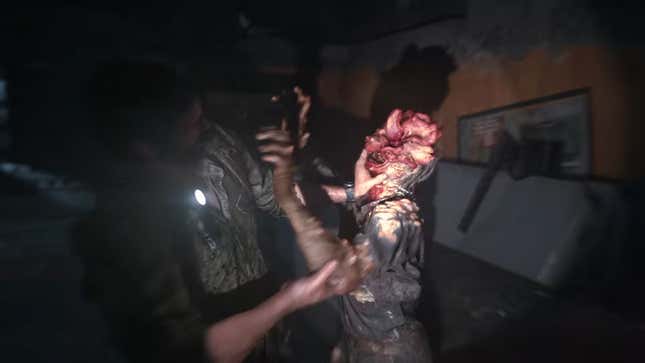 If you've ever found yourself playing The Last of Us and getting frustrated that the horror was only happening behind the safety of a screen, well, I have good news for you. Starting in September, The Last of Us' signature brand of post-apocalyptic terror is coming to Universal Studios during the theme park's Halloween Horror Nights.
Horror Game You've Never Heard Of Is Scientifically The Scariest Ever
While The Last of Us often focuses on the emotional struggles of people being horrible to one another, it also doesn't shy away from body horror by way of its fictional mutated fungus that turns folks into rampaging monsters, clicking fungal freaks, and other deadly and terrifying former humans. The hair-raising sound of the game's Clickers using echolocation to hunt you down is one of the series' signature audio stylings,. and now you'll get a chance to hear it bouncing off the walls around you at Universal Studios Orlando and Hollywood this fall.
The haunted house will reportedly see you "navigate your way through an abandoned Pittsburgh with Joel and Ellie," and unsurprisingly, the teaser trailer heavily emphasizes the sounds of clickers, so you can bet that will be a prominent feature. Curiously, language on the website also indicates the presence of Hunters which, as many fans will know, are not mutated humans. (Being hunted by them can still be plenty tense, though.) Universal Orlando will see its version of the event open on September 1, while Hollywood's will open on September 7.
Kotaku has reached out to Universal for more details.
This follows a tweet from Neil Druckmann, The Last of Us' co-creator, two years ago expressing interest in bringing TLoU to Halloween Horror Nights.
The timing of this makes sense. The Last of Us not only recently wrapped the first season of a widely celebrated TV adaptation via HBO, but the series is also celebrating 10 years since the launch of the first game on PlayStation 3. Where does the time go?