It's just not a blockbuster comic book movie without blocky plastic recreations of pivotal scenes, courtesy of Lego.Check out three Justice League movie Lego sets coming in August, starring Stubble Affleck Batman, Sea Hobo Aquaman, Pizza Delivery Flash and other super friends.
We kick things off with the smallest, cheapest and least impressive of the three new sets. Aquaman just can't catch a break.
The Battle of Atlantis set features several sea pillars representing Atlantis, which I am sure will be much more impressive in the film. Featuring a yellow Parademon and a pair of Atlantean guards, it obviously depicts the scene in the movie where Jason Moana attempts to return the Heart of Te Fiti. Make way!
G/O Media may get a commission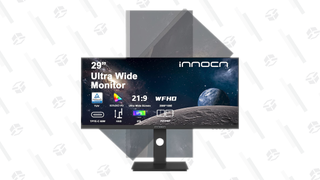 39% Off
Innocn 29" Ultrawide Computer Monitor
Here's the official Lego description of the $19.99
76085- Battle of Atlantis
Team up with Aquaman and the Atlantean guards to stop the super-jumping Parademon stealing the Mother Box in this all-action LEGO DC Comics Super Heroes Battle of Atlantis set. The underwater Atlantis scene features a grand arch to knock over with the Parademon's Super Jumper. Also includes the Mother Box and 4 minifigures with assorted weapons to add to the role-play battle fun.

197 pieces
The second of the three sets features a much more exciting pair of super heroes and a very cool vehicle.
Batman gets the coolest rides, doesn't he? The Knightcrawler Tunnel Attack features what looks like a more serious take on The Lego Batman Movie's Scuttler. It's Benaffleckman and "Power Blast!" Flash against a pair of Parademons in an all-out battle to recover the stack of silver pizza-looking pieces that make up a Lego Mother Box.
The official description of the $49.99 set gives delivers a little more detail on the Knightcrawler.
76086- Knightcrawler Tunnel Attack

Drive and crawl with Batman's all-terrain vehicle and reclaim the Mother Box from the evil Parademons, in this exciting LEGO DC Comics Super Heroes Knightcrawler Tunnel Attack set. The Knightcrawler features 4 posable limbs, each with 2-wheel tracks, plus dual 6-stud rapid shooters and an opening cockpit for Batman. Includes 4 minifigures with weapons—including Batman's Batarang, The Flash's 2 Power Blasts and the Parademons' handheld stud shooters—to ramp up the role-play battle action.

622 pieces
Lego doesn't have detailed pictures of the final set—I was told all they were allowed to show was the box art of the $129.99 Flying Fox: Batmobile Airlift Attack set. Sometimes box art is enough. Look at this:
That seems to be a flying Bat Fortress that vomits Batmobiles. Holy vehicular regurgitation, Batman!
To be fair, it is a pretty small Batmobile, barely big enough to fit a minifigure in its cockpit. It certainly won't fit the giant-sized figure of movie villain Steppenwolf.
Here's the Lego description, which is almost as good as detailed photos.
76087- Flying Fox: Batmobile Airlift Attack

Team up with the Justice League against Steppenwolf and the Parademons to claim the precious Mother Box, in this exciting LEGO DC Comics Super Heroes Flying Fox: Batmobile Airlift Attack set. The Flying Fox features a 2-minifigure cockpit with a lift-off canopy, 2 spring-loaded shooters, 2 stud shooters and space inside for the Batmobile with an opening cockpit, 3 stud shooters and adjustable wings. Includes 6 minifigures with weapons—including Cyborg's attachable stud-shooting arm—plus a Steppenwolf big figure.

955 pieces
Oh hey, Superman's alive. I wouldn't read too much into it. It's probably just something for the kids. Maybe the Corpse Superman minifigure they originally planned didn't go over well in testing.
The Justice League movie Lego sets will be in stores on August 1.