Last year Microsoft introduced the Xbox 360 Slim, a darker, skinnier, and prettier version of the Xbox 360. A body that sexy needs a cooling solution to match. Here comes the Nyko Intercooler STS.
Specs
Price: US$19.99
Platform: Xbox 360
What's in the box: The Intercooler, and that's all.
There was a time when the only real console worries we had were dust collecting on the cartridge contacts, but those days are long gone. With more powerful consoles come more pressing technical concerns, including the risk of overheating. With a half-dozen devices crammed into the limited space afforded by the modern entertainment center, your delicate electronics can and will run hot, and that can lead to a trip to the repair center. That is, unless you find a nifty little product that keeps your console cooler.
The Basics
Nyko has been keeping Xbox 360 systems cool since they started getting hot, but the recent redesign of the consoles has given Nyko's designers the opportunity to create a truly striking cooling device. Where the Intercooler for the older Xbox 360 models added bulk to the back of the system, the Intercooler STS for the S-model 360's sits snugly against the side (or top, depending on how you position your console). Instead of dispersing hot air behind the console, the STS features forward-facing vents, making it ideal for cramped entertainment centers.
G/O Media may get a commission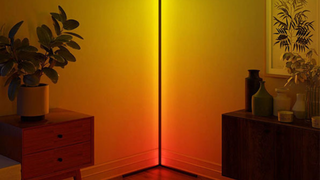 Save 60%
Minimalist LED Corner Floor Lamp
Using It
Installation is a breeze, pardon the pun. Just snap the Intercooler STS into place, plug in the USB cable, and turn on your Xbox 360. Once attached it looks like it's always been a part of your console.
The Intercooler takes things from there, monitoring the internal temperature of your console and kicking into gear when it senses things are getting a little too hot thanks to Nyko's TempSmart technology. It'll even continue to run once your system shuts down, humming away until an ideal ambient temperature is achieved.

What We Liked
For one, the Intercooler STS worked like a charm, which is always nice. Packed into a tight space in my entertainment center along with an HD-DVD drive and my debug Xbox, my Xbox 360 Slim would often shift into cooling overdrive, thrumming away like a tiny little jet engine for tiny little jet people. In the two weeks I've had the Intercooler STS attached I've heard no sign of that loud thrumming. I almost miss it.
It quite an elegant design, from the front-facing air vents to the use of USB power that allows the device to keep cooling even after the 360 is powered down.
Working properly is impressive, but the Intercooler STS manages to look damn good while doing it. It hugs the side of the Xbox 360 Slim like it was meant to be there from the start, making the 360 Slim look even more like the sort of video game console Batman would use.
What We Didn't Like
What's not to like? It works great. It looks great. I might trick it out with some LED lighting and pretend it shoots lasers, but "doesn't shoot lasers" is more of a generic complaint that covers just about everything (except lasers).
The Bottom Line
Look, I've been running my Xbox 360 Slim in its cramped little space for half a year and I've had no hardware issues, so whether or not I need a cooling device for the console is up for debate, but if I was worried about overheating, Nyko's Intercooler STS is the product I'd turn to. It's masterful melding of function and form that makes the console look hotter and feel cooler at the same time.
The Intercooler STS was developed by Nyko for the Xbox 360, released on February 15. Retails for $19.99. A unit was given to us by the manufacturer for review purposes. Attached it to my Xbox 360 Slim and let it do its thing for the better part of two weeks. Contemplated lasers.