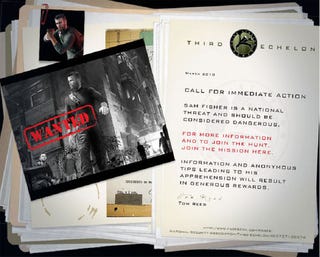 Third Echelon's best agent has gone rogue, and they've turned to Facebook for help tracking down Sam Fisher. Where would you go if you were a top secret government agency trying to track down a traitor? MySpace? Please.
Even super spies need social networking. The National Security Administration's Third Echelon is on the hunt for a dangerous rogue operative named Sam Fisher, who may or may not be facing Conviction if captured. Concerned citizens are asked to report to this Facebook page to join the search for this armed and dangerous fugitive.
Splinter Cell: Conviction is only a month away from release, and Ubisoft seems to be upping the marketing ante accordingly, using social networking site Facebook as a front for its seedy operations. Will you join the hunt, or go back to complacently sitting in your computer chair, eating Cheetos?
Bring me some?