Following a pretty lousy winter for StarCraft, Korea's GSL ended on a high note Sunday morning as two teammates fought a pitched-battle across six games in an instant-classic StarCraft final.

Joo "Zest" Sung Wook was the favorite heading into the final, especially because his opponent was a Terran. He has pretty much owned the Protoss vs. Terran matchup this year, racking up a 22-1 record in PvT. That's only slightly more impressive than the fact Zest played the entire Code S season (the highest level in the GSL system) losing just a single map.
The stage was set for a massacre of his junior teammate, Jun "TY" Tae Yang. But TY confounded expectations with a victory on the first map, Dusk Towers, thanks to some of the most relentless pressure Zest has faced all season.
TY wasn't just able to manage multiple fights at once, but he was able to keep them in the context of the bigger picture. Look at this play from the opening map (and thanks to StarCraft super-fan @jolly0451 for calling my attention to it):
TY pulls Zest's defense apart here using a Medivac drop that slowly rolls its way north toward Zest's natural expansion. He doesn't rush, and he's willing to absorb some losses while waiting for Zest to commit to moving his army north in pursuit of the airborne assault. It's only once Zest has finally moved his ground army miles away from his southernmost base that TY's ground army finally arrives. From Zest's POV, this has been three separate events he's had to deal with. For TY, it's been a single, elegant play with different steps unfolding alongside each other. It's perfectly timed and devastates Zest despite the fact that Zest's army was never really defeated.
G/O Media may get a commission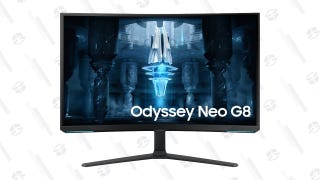 Samsung 32" Odyssey Neo G8 Curved Gaming Monitor
But Zest eventually regained the initiative. After tying the series at 2-2, TY started trying to run more opportunistic, trick-play type strategies. It went badly for him, and Zest took a 3-2 lead.
At that point, TY seemed to fall-apart. A game away from defeat, TY could do nothing right. He built a redundant factory rather than the starport that Terrans need to do just about anything, losing crucial time in the process. He fumbled a series of small plays, eating needless damage. While he rallied in the closing stages of the game, coming within a whisker of mounting a complete comeback, the hold was too deep for TY to dig his way out.
As good as Zest might be at playing StarCraft 2, the cerebral pro's victory celebration needs a little work. While the traditional winner's kiss of the GSL trophy has become a rote tradition largely for the benefit of photographers, most champions show a little more obvious joy and excitement at winning the most or second-most important trophy in StarCraft. Zest, on the other hand, kissed that trophy the way Marshawn Lynch gives an interview.
On the other hand, Zest was probably exhausted. Zest had to work harder to beat TY than he's had to work against practically any other Terran in Legacy of the Void. After months of match-fixing scandals and uncertainty about the integrity of the game, TY and Zest provided a much-needed reminder of what StarCraft looks like when it's at its best.