Back before the days of glasses-free 3D and touch screens, there was a Nintendo handheld that conquered the globe.
Elden Ring's Top Five Spells, According To FromSoftWare's Stats
The Game Boy was introduced to the world in 1989 and the battery-powered brick quickly grew to become one of Nintendo's greatest successes. Throughout its lifespan and various iterations no other handheld system came close to providing the same variety of games or selling the same number of units. As the Game Boy evolved into a sleeker and more colorful mobile device, it saw entries from dozens of gaming's most famous series, and hundreds of newcomers. Some of those games went on to sell millions of copies, while others fell by the wayside.

In the here and now the Game Boy's retro appeal has given some of its lesser known or sparsely produced titles quite the rise in value. Listed below are the top ten games from both the Game Boy and Game Boy Color library that tend to sell for the most green. The estimated values given are a combination of online sales data from the aggregation sites Price Charting and Game Value Now, as well as a bit of my own research on gaming commerce and auction sites around the web.
The low end of this value range represents the games in a "loose" state, while the high end represents those that are complete-in-box (CiB) with all their original inserts. Obviously games that are still pristinely preserved in their original shrink wrap are worth far more money, but hopefully most Game Boy owners have opened and played the majority of the games in their collection.

G/O Media may get a commission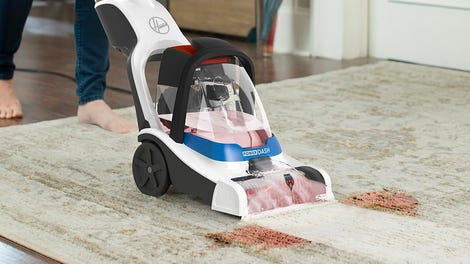 26% Off
Hoover PowerDash Pet Compact Carpet Cleaner
Here we go!

---
The Legend of Zelda: Oracle of Ages and Seasons Limited Edition
Estimated Value: $1,130 - $2,130

Background: The Zelda series is no slouch when it comes to releasing special and limited editions of its legendary adventures. Gold painted cartridges may be the most well-known perk for early adopters, but Nintendo has also made a habit of bundling new Zelda titles with everything from figurines to watches to maps. When Oracle of Ages and Oracle of Seasons launched in 2001 Nintendo decided the first ever Zelda double feature needed to be accompanied by its own box of exclusive goodies. Like the highly sought after Majora's Mask box set, this limited edition was only released in Europe. Collectors who can get their hands on the set rarely put it up for auction, meaning it usually sells for quite a few rupees when it does pop up online. It might seem a bit steep to the average player, but... it does come with boomerang.
---
Amazing Tater
Estimated Value: $300 - $1,400

Background: Released as Puzzle Boy II in Japan, Amazing Tater is the official sequel to the 1990 Game Boy title Kwirk. Nearly identical to its predecessor visually, the game tasks players with navigating the titular potato through various mazes and puzzles from a simplistic top down vantagepoint. As blocks are pushed and rotated, new paths and challenges are revealed. Developed and published by Atlus, Amazing Tater is known to have one of the smallest licensed production runs in Game Boy history (a common theme with Atlus throughout the years). Due to its low number of copies in circulation and lack of cult following, most casual collectors are unaware that this little tuber even exists.
---
Shantae
Estimated Value: $300 - $760

Background: There are few games on this list that signify the start of a franchise still in production to this day. Dreamed up by husband and wife team Matt and Erin Bozon, the original Shantae was stuck in development hell for years, and eventually landed on the Game Boy Color. Even after being picked up by publisher Capcom, the game wasn't released until months after the launch of Nintendo's new Game Boy Advance. Though it was lauded for its smooth gameplay and level variety by critics and fans alike, there was rumored to only be around 20-25,000 copies produced. Thanks to the developers at WayForward the series is still going strong, but cult status as one of the best Game Boy Color platformers has made the original Shantae a must-have for many collectors.
---
Trip World
Estimated Value: $280 - $1,200

Background: Exclusive to the Japanese and European regions, Trip World may be the most obscure of the Game Boy's most valuable titles. The game stars an adorable white blob named Yakopoo who can shape shift into different helpful forms. From both a visual and gameplay perspective Trip World is very similar to the adventures of Nintendo's pink puff, Kirby. The game carries with it the same kind of simplistic baddies and low level challenge that younger players might find appealing. Most of the copies for sale online come out of Japan or Germany (for some odd reason), though those who simply want to experience the game in all its glory can pick up a reproduction cartridge for less than twenty bucks.
---
Spud's Adventure
Estimated Value: $190 - $1,520

Background: You're probably thinking, "More potatoes? Really?" You better believe it. In fact, Spud's Adventure is actually a spin-off of the main Puzzle Boy series that produced Amazing Tater. Despite predating the official sequel by less than a year, Spud's Adventure is somehow a much more graphically advanced and technically impressive game. This time around players take control of Spud, a weary wanderer who must brave a tower of murderous food beasts to rescue Princess Mato from the clutches of a demonic beetle. The entire backstory is like a produce framer's fever dream. Once again it seems publisher Atlus wasn't keen on producing too many copies, forcing potato fans everywhere to pony up some serious dough for this starchy spectacle.
---
Jimmy Connors Tennis
Estimated Value: $120 - $420

Background: Although his name may not be known to the current generation of athletes, any sports historian would likely have many tales to tell of Jimmy Connors. In the mid '70s Connors was an unstoppable force in the world of tennis, winning an unprecedented eight Grand Slam championships. Far past his hay day he became the face of Ubisoft's newest tennis series, which was soon spread across a multitude of consoles and handhelds. The game didn't exactly fly off store shelves upon its release in 1993, making used copies a bit of a rarity these days. Of all the games on this list that you might stumble upon in the bottom of a garage sale bargain bin, Jimmy Connors Tennis is surely number one.
---
Sewing Machine Operation Software
Estimated Value: $115 - $150

Background: Remember when Nintendo teamed with the Singer Corporation to produce a sewing machine that could be operated by the Game Boy Color? Yeah… most folks probably don't. This surprising crossover was established at the start of the new millennium, with Nintendo packing in an aqua blue Game Boy Color with Singer's swanky IZEK model. Of course without any software, there would be no point to this bizarre union. The official Sewing Machine Operation Software cartridge allowed players (tailors?) to pick from various patterns and fonts, as well as design their own nifty stitches. It was actually a decently advanced piece of tech for its day. As one might have guessed, there weren't many of these bundles produced, making the software alone with a pretty penny.
---
Toxic Crusaders
Estimated Value: $110 - $300

Background: Every now and then a movie comes along that's so mind-bogglingly over the top that audiences can't look away. This was surely the case with 1984's superhero horror comedy The Toxic Avengers. The movie, filmed by the twisted minds at Troma Entertainment, centered on a nerd turned "Monster Hero" who must put a stop to the crime in his hometown. Oddly enough this bloody cult classic was turned into both a staged musical and a children's cartoon in the years following its release. Enter Toxic Crusaders, a video game based on the cartoon based on the underground hit movie. With only 13 episode ever produced, the Toxic Crusaders never got much exposure and their video game was lost to the ages. It's rather hard to find nowadays, likely because most of its cartridges are sitting in the dump. How fitting.
---
Mega Man V
Estimated Value: $100 - $750

Background: When Capcom's blue bomber debuted on the NES back in 1987 he kickstarted one of the console's defining series. It wasn't long until Mega Man titles began to pop up on Nintendo's portable powerhouse, bringing some stellar platforming action to the Game Boy's tiny green screen. The first four Mega Man titles for Nintendo's handheld were scaled down ports of their home console counterparts, with each entry combining two NES outings. Mega Man V represented Capcom's first attempt to craft an original adventure for the Game Boy, making it a much more unique offering than it's copycat predecessors. This significant deviation has made Mega Man V a prized possession amongst Game Boy collectors.
---
Kid Dracula
Estimated Value: $75 - $670

Background: At first glance, Kid Dracula's connection to the gaming world may not be so obvious. The game's cutesy design, humor, and platforming are a far cry from its original gothic source material — the renowned Castlevania series. Seen as a parody spinoff, Kid Dracula is actually a sequel to the Japan-exclusive Famicom title Demon Castle Special: I'm Kid Dracula. Developers Konami decided this handheld entry was worth bringing to the North American and European regions, though not in great numbers. Castlevania collectors tend to snap up Kid Dracula at first sight, which also adds to the game's rarity and value. What a pain in the neck.
---
Unless you're a serious Game Boy collector, chances are you don't have many of the games listed above. So let's check in on some…
Games You Might Actually Own
Super Mario Land 2: $12 - $36

Kirby's Dream Land 2: $20 - $76

Pokémon Red: $15 - $70
The Legend of Zelda: Link's Awakening DX: $24 - $60
Pokémon Crystal: $34 - $143
Metal Gear Solid: $43 - $91

---
Obviously there are plenty of other collectible Game Boy games floating around, many of which may hold more emotional value than monetary worth. Which Game Boy titles are you proudest to call your own?