The future of the WWE is a 26-year-old woman who wears a side ponytail in a scrunchie and snap bracelets on her wrists. She's an athletic hero to little girls and jaded, older male fans alike, and she wrestled in what may have been the WWE's best match of 2015.
Her name is Bayley, real name Pamela Martinez. When she first arrived in the WWE, she was a Mexican-style lucha libre wrestler, mask and all, but she's morphed into a smiling, feel-good hero with a dash of 90s throwback. She plays it all squeaky clean. She loves hugs and she gives them out frequently. She's the defending women's champion for the WWE's developmental league NXT, as she will defend her title tonight in Dallas, Texas two nights before Wrestlemania.

Over the past year or so, she's tapped into a new audience of young, female wrestling fans and led people to speculate that she, of all people, could be the successor to the current face of the WWE, John Cena. They share that same all-ages appeal.

"I was such a tomboy growing up, and so I always had my hair in a ponytail," Bayley recently told Kotaku while discussing how her wrestling character came to be. "I was trying to think of how I was when I was around 10."

G/O Media may get a commission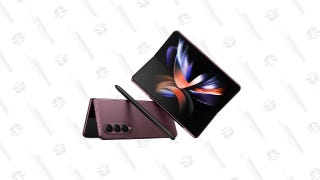 Save Up to $300
Galaxy Z Fold4
She stands now as the embodiment of any wrestling fan's youthful dreams. And it fits. Bayley is relatable, because in a business of larger-than-life stars, she plays it down-to-earth. She is refreshingly human and unpackaged. When she enters the ring, she bobs her head to her own music. She bites her lip when she looks out to the crowd. When she talks about a match or an opponent, her promos have the natural pauses and hesitations that are common to casual conversation.

She's us, perhaps, if we ever dreamt of being pro wrestlers.

Late last year, she posted a picture of an essay she wrote in high school, about one day becoming the WWE Women's Champion.

It's things like that that have endeared Bayley to her fans. The WWE's audience values the moments when wrestlers drop their guard–when they stop being characters and start acting like the 'real' version of themselves.

Her performances don't feel scripted. She may be a kickass wrestler but she also betrays a vulnerability. The WWE fans love an everyman. They love someone who can be an avatar for the fans, and who has the same sorts discomforts and imperfections that the average person, who was thrust into the spotlight in front of millions of fans, would have.

When you combine that side ponytail with the snap bracelets, the bright colors, and the randomized accessories, you have a look that encompasses childish joy, that is easily imitated, and that lends itself to cosplay. The army of Bayley supporters is slowly growing. Just a cursory look at her Twitter account shows how firmly the #HugLife movement has taken hold. Bayley retweets hundreds of pictures of her young fans, and they're all wearing DIY variations of her ring gear. She even has a fangirl, Izzy, who's always in the front row at the NXT's home arena at Full Sail University in full regalia, to cheer her on.
"Everytime that I see a little girl dressed like me [at a show]… I'm never going to get used to that," says Bayley.

There are even male fans who are decked out in Bayley gear, most notably her "I'm A Hugger" t-shirt. Traditionally, professional wrestling has been about aggressive physicality, of wanting to kick the other guy's ass and ask questions later. The biggest WWE Superstars in history–John Cena, The Rock, 'Stone Cold' Steve Austin, and Hulk Hogan–all speak to a very traditional masculinity. You'd rarely see a male wrestling fan wearing a female wrestler's t-shirt. But now, the WWE has a large number of fans who have embraced the uninhibited glee of Bayley's persona. It's a trend that aligns very closely with the Brony phenomenon, the adult male fandom for My Little Pony: Friendship is Magic. The stuff is made ostensibly for little girls, but it is universal in its wider appeal. Earnestness is the new irony. Optimism is the new cynicism. And masculinity is an antiquated concept.
Bayley's character wasn't always so relatable. She debuted on TV as an obsessive, stalkerish fangirl, who was prone to giving attack hugs to other wrestlers backstage. It was cute and funny, but it was also a trifle. The character lacked the gravitas needed to be a believable Women's Champion. At the time, Bayley was the little sister to the rest of the roster. She was lovable, yes, but an unconscionable pain in the ass.
Still, Bayley was earmarked for success. She and three other women who joined NXT around the same time–Sasha Banks, Charlotte Flair, and Becky Lynch–referred to themselves as the Four Horsewomen, after Ric Flair's legendary NWA stable the Four Horsemen. They helped make American women's wrestling more sophisticated, focusing less on the athleticism of the contest and more on the storytelling that produces great matches.
Time passed. In the middle of last year, Sasha, Becky, and Charlotte all got called up to the WWE's main roster, a sign of management's approval and belief in their star potential. Bayley, who stayed behind in NXT, was perceived as the weakest of the four. She consistently was booked to lose to them and never clinched the title. That kicked off a storyline in which the Bayley character started taking herself more seriously. The character realized that she wasn't content with looking up to her colleagues. She needed to assert herself if she wanted to stand shoulder-to-shoulder with the best.

She was an everywoman, who was not as conventionally attractive as Eva Marie, as ripped as Nikki Bella, or as charismatic as Sasha Banks. But she represented a type of wish fulfilment of the small town girl who watched wrestling on TV and fantasized about becoming the world champion. This underdog story, rooted in the sting of actual events, was something that fans could get behind. Armed with this new attitude, Bayley ran over the roster last summer. She defeated Emma. She defeated Charlotte. She defeated Becky. And at NXT Takeover in Brooklyn, she defeated Sasha Banks, in an epic match, to become the NXT Women's Champion.
Here's a recap that was used to promote Bayley and Banks' rematch:
The match was an incredible, emotional experience, with clear storytelling and genuine stakes on the line. It was indisputably the greatest match of the evening. Most critics deemed it the greatest women's match of the year. And a smaller group of critics whispered, amongst themselves, that it might have been the Match of the Year. It was an unprecedented, uncomfortable truth for many to handle: that two women could upstage every man on the NXT roster, and every established man on the Raw roster as well.

Bayley is modest about her crowning moment; when she watches it back, she agonizes over the technical mistakes in her form. But she acknowledges the emotional impact of the evening, and what the match means for women's wrestling.

"I compare all of my matches to that match," Bayley admits. "It was everything about that night: the lead up to it, the crowd, and our two characters' stories; we grew up at NXT together. I don't know if the fans expected the match to be that. It's hard to compare anything to that, because I don't know if we'll ever get a moment like that again."
Bayley doesn't play the underdog much these days, though she's scheduled to face a fearsome opponent, Japanese striker Asuka, in Dallas tonight. She's now a long-reigning champion on camera. Off camera, she's become the de facto leader of the women's locker room. It's a role that she embraces; the little sister making the transition to big sister.

"All the girls I started with have gone to the main roster, and I'm the one who's been here the longest," Bayley says. "It's a good challenge for me. I try to lead by example, and I just try to keep [the women's locker room] as a tight knit group."

Bayley takes younger, more inexperienced wrestlers under her wing. At first, it was Carmella. But these days, Bayley is focused on two of the newer women: an Arab-Canadian wrestler named Aliyah, and a Jersey girl named Liv Morgan. She admires their work ethic and thinks they have what it takes to succeed in the wrestling business.

"In training, I'll make sure to pair off with one of them, so I can see how they're working or thinking," Bayley says. "When we're in the gym, I'll do circuits with them at the end, because I want to see how far they can push themselves. And at shows, I watch all of the girls' matches. They'll come up to me, because they want to know what I thought, and I'll give them honest feedback.

"Sometimes when I see [Liv] out there, I'll say, 'You're trying to be this [type of] wrestler, but you really just need to be yourself,'" Bayley says. 'Because you dress the way you really do on the streets, and you come out to music that you really listen to. You dance the way you really dance. The wrestling moves are there, but you have to act organically.'

"That comes with experience and time," Bayley adds.

Eventually Bayley will make it to the main roster, maybe very soon. We'll see how big (and what kind) of a star she can be once she's there.

She's not going to be, say, The Rock. He is one of the most popular superstars to ever wrestle in the WWE, but that's because he's an ideal. He's handsome, perfectly cut, and badass cool.

But compare The Rock to a wrestler like Mick Foley, who doesn't have an athlete's body, and is self-conscious in interviews. Or take Dusty Rhodes, who famously said his "belly's just a lil' big," and his "heiny's a lil' big." The Rock may have been the People's Champion, but it was the marble mouthed, paunchy Dusty who moved the crowds to tears, and identified with their "hard times." It's no coincidence that Dusty was a second father and mentor to many of the NXT wrestlers, including Bayley. His brand of blue collar enthusiasm permeates the brand. She could be like Dusty in her own way. Even better, though, she could be the new Cena.

John Cena won't be around forever. He's getting older, and the injuries are taking their toll. The kids need a new hero, and they've got one in Bayley. The WWE would be wise to push her as the new public face of the company. They could not ask for a better representative of their brand. She's a homegrown talent. She's warm and down-to-earth. She's a positive role model for little girls. She isn't overtly sexual, which is invaluable to a company that is trying to become more family-friendly.

And most importantly, she gives the fans a reason to care and invest in the product; she's a dreamer, and she resonates with anyone who's dreamed big. For those of us who are still young, she can inspire us to climb our mountains. And for those of us who are older, she can climb those mountains for us, and we can bask, vicariously, in her successes.