Editor's Note: The shadowy figure known as Superannuation is back with more armfuls of gaming gossip about the people who made Perfect Dark, a possible Disney Skylanders clone, a strange Vita job listing at Sony and some tantalizing mysteries that maybe only you can solve. What has Superannuation dug from the World Wide Web to share with you wonderful Kotaku readers? Read on.
A handful of recent job postings appear to further corroborate the next-generation efforts of Microsoft's storied UK studio Rare, which first came to light back in May.
An opening for posted last week on Microsoft's careers portal for an engineer at the studio very curiously lists knowing how to "Understand, assess and be capable of implementing real-time rendering techniques made possible by DirectX 11" among the job responsibilities. DirectX 11 is, of course, is not at supported by the current generation Xbox.
Additionally, a previous version of that job posting mentions that the firm is "continuing to push the boundaries of the Kinect hardware with our exciting new project." It does not feel like a leap to guess this "exciting new project" could be a continuation of the Kinect Sports franchise alluded to in a May recruitment firm posting, which also discussed the studio venturing into "new IPs for future platforms" as well.
Another Rare opening on the Microsoft jobs portal from last month for a lead producer has a rather intriguing line amongst the list of qualifications: "Experience around delivering and running online services or Free-to-play experiences would be a distinct advantage [for potential applicants]." This bit is interesting considering that speculation has pegged fellow Microsoft UK studio Lionhead as working on a MMO-like RPG wherein multiplayer/online is an inseparable part of the game, and publishers and developers see free-to-play as an important part of the next generation of consoles. Could Microsoft's strategy for the next Xbox lean heavily on the idea of games as service?
G/O Media may get a commission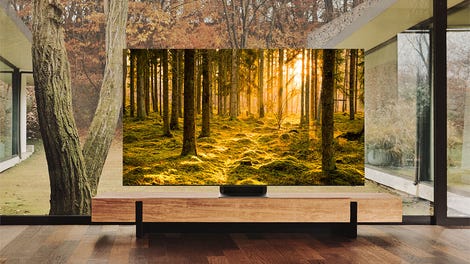 Up to 40% off
Samsung Smart TVs
* * *
Sony seems keen on creating a market for Vita accessories beyond memory cards, if a recent job posting is to be believed.
Late last month, Sony Computer Entertainment America put up an opening for an "Associate Brand Marketing Manager" in "Handheld Peripherals," whose responsibilities include: helping with future "handheld peripheral launches in North America, inclusive of all product iterations, to meet corporate unit and revenue targets" and help "bring key peripheral products from ideation to market" by "working with Product Planning team in Japan on creation of new peripherals that meet gamer demands and match corporate business plan targets," among other things.
Also, the bit about "all product iterations" is arguably a little odd considering that Sony has not disclosed any solid plans for a Vita redesign and presumably would not want such a notion out there as it could potentially cannibalize sales of current SKUs.
* * *
Last week, a LinkedIn job posting went up for a contract hardware engineer at Disney's Utah-based studio Avalanche Software (not to be confused with Just Cause developers Avalanche Studios), developers of Disney's recent Toy Story 3 and Cars 2 tie-ins. The hardware engineer is expected to "Help design custom peripherals for video game consoles," "Build functional prototypes that interact with game software" and "Collaborate with part suppliers and manufacturers to fit within financial targets." Additionally, "[radio frequency] design" experience is listed under "pluses" for potential candidates—something that brings to mind Skylanders "Portal of Power," which is essentially a RFID reader.
Disney working on its own version of the Skylanders toys-plus-game concept seems like the most plausible reason the media giant would be interesting in making console game peripherals, particularly given the thousands of universes at Disney's disposal for such a product.
* * *
As to what the other Avalanche — Avalanche Studios, creators of Just Cause — is working on, the company announced in May it is in production on "multiple current and next-gen console projects set for release in 2013 and 2014" — specifically, Avalanche is "currently working with Square Enix on a ground-breaking open-world action title and two further undisclosed projects based on movie- and comic book franchises." The logical guess for the Square Enix project is the much-rumored Just Cause 3, and the movie project is rumored to be a tie-in for the new Mad Max movie. (An Australian newspaper claimed last November that development of the Mad Max game moved from Sweden to Mad Max director George Miller's game studio in Sydney, but that appears to have been some sort of misinterpretation on the reporter's part.)
Assuming there is not some sort of error in the statement on Avalanche's site, that leaves one remaining mysterious project — something based on a comic book franchise. Given the the Just Cause franchise's roots in Sweden and the length of the Mad Max game's development, it seems fairly reasonable to deduce that the third "comic book" project is what the year-old Avalanche New York studio is working on — a 2014 game codenamed "Project Mambo."
Avalanche's company description on the Gamasutra jobs portal says the company "is currently developing three AAA projects based on very well-known licenses and original IP'Äôs together with three of the world'Äôs largest and most influential publishers." If WB is publishing the Mad Max game — as has been rumored — and the comic book property has a different publisher, it is a bit of head scratcher to wonder what a non-DC, possibly non-Marvel (Disney isn't terribly keen on AAA development these days) open-world AAA comic book game with multiplayer could be.
Finally, Avalanche NYC's "very exciting, unique and well-known AAA franchise" game will integrate "asynchronous multiplayer technologies, web based tools," and applications for iOS and Android into the game experience.
superannuation is a self-described "internet extraordinaire" residing somewhere in the Pacific Time Zone. He tweets, and can be reached at heyheymayday AT gmail DOT com.


Read more Assorted Scoopery! Secrets lurk within.